Former chairwoman and general manager of Sanlu Group testified in court on Wednesday that she knew in May that her dairy firm's products were contaminated but notified the authorities only in August.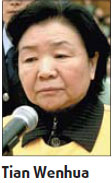 Tian Wenhua, 66, and three other former top Sanlu executives on trial in the Shijiazhuang Intermediate People's Court face life imprisonment for "producing and selling fake or substandard products".
Wang Yuliang and Hang Zhiqi, both former deputy general managers of Sanlu, and Wu Jusheng, former manager of the firm's raw milk department, are the other three standing trial.
Earlier reports said they could be sentenced to death "for producing and selling fake or substandard food products".
Contaminated milk products of Sanlu and some other dairy firms killed at least six children and left more than 290,000 with urinary track ailments, including kidney stones. The products were contaminated with toxic chemical melamine, which makes milk appear richer in protein during laboratory tests.
Tian and her former colleagues faced a three-judge panel at the trial that began at 8 am. The hearing ended at 10:12pm.
Related readings:


 Trial of executives in China milk scandal closes, verdict pending


 Compensation to cover medical costs 'until 18'


 Sanlu boss stands trial for role in milk scandal


 Four executives of China milk scandal company stand trial 2008

Wang entered the court on a wheelchair because he had "injured his legs". He said he suffered the injuries when he tried to commit suicide because he felt sorry for the suffering kids and their families.
According to the indictment, Sanlu first received complaints from parents in late 2007, saying their children's urine was discolored.
When the number of such complaints swelled in March 2008, Sanlu formed a team to investigate the case. By May, the team had found that the products were contaminated with a non-food chemical rich in nitrogen. Though it did not know the exact nature of the chemical, it sent a report to Tian.
The company found the chemical was melamine after she ordered a thorough probe in late July.
Sanlu then sent samples from 16 batches of its products to the quality inspection and quarantine bureau of Hebei province to test for melamine. It, however, did not specify that the samples were from its products. The results, issued on August 1, showed 15 of the samples contained high levels of melamine.
As soon as they got the results, Tian and former top executives of Sanlu held an emergency meeting to discuss how to handle the case.