A big step forward
(China Daily)
Updated: 2008-03-19 07:30
In addition to the once-every-five-year routine of leadership reshuffle, as well as general discourse about the national status quo, the 2008 session of the National People's Congress (NPC) took an impressive step toward upgrading government administration.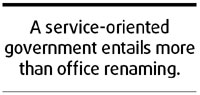 Unlike many past experiments starting at local levels and with limited scopes, this one begins from the State Council, the cabinet. That the scalpel of reform has been first applied to the very top of the country's administrative pyramid belies a broad awareness of an acute need for change in the manner State affairs are managed. The leading Communist Party's recent ideal to deliver "good governance" is difficult, if not impossible, to fulfill with a governance philosophy and subsequent government layout that is increasingly out of sync with the new conditions.
The regrouping of major powers among ministries and commissions is a logical outcome of new understanding of the roles and functions of the government. The rearrangements, such as establishment of the independent national energy headquarters and upgrade of the national environmental watchdog into a full-fledged ministry, not only answered to a number of imperative needs, but also inaugurated a new round of reforms in the governance structure.
Since a start has been made, we are beginning to anticipate more will follow. Because, on one hand, a lot of matching efforts are needed for the initial moves to produce the desired results. On the other hand, defining of the new layout itself requires more brainwork to be sensible and executable.
We appreciate the particular emphasis Premier Wen Jiabao placed on emancipation of the mind at yesterday's press conference. He was not overstating it when he said every step forward on our way toward where we are today has to do with the courage to blaze fresh trails. That is an invaluable asset the national leadership is obliged to carry forward.
We hope our government and all public office holders will never compromise their commitment to "good governance" when its materialization calls for operations on what they take for granted.
A service-oriented government, to which Premier Wen committed before the national legislators, entails much more than merging and renaming government offices.
(China Daily 03/19/2008 page9)