Hainan warms up to solar solution
By Fu Jing (China Daily)
Updated: 2008-03-19 07:29
Hainan province, an island the size of Belgium, plans to harness its richest resource - sunlight.
As part of a clean energy plan to protect its stunning coasts and semitropical ecology, the island has also mapped out a plan to construct wind farms.
Lin Fanglue, vice-governor of Hainan, said the provincial government has plans to construct large solar power generators and equip the residential rooftops with solar panels.
Four cities, including provincial capital Haikou, tourist destination Sanya, and conference center Bo'ao, are the provincial pioneers in expanding clean energy sources and use. The province will also build a national research center on solar power.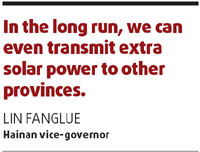 "We are moving to turn the province into a solar-power island," Lin told China Daily. Like most of China, Hainan currently depends on coal power; and its isolation from the national electric grid exacerbates the problem of electricity shortages.
Electricity generated by solar panels and wind turbines will feed into the provincial grid, which will subsequently be linked into the national grid after completion of a seabed electricity cable project in the Qiongzhou Strait next year.
As China's southernmost province, Hainan is abundant in sunlight and wind; and experts say that tapping only 2 percent of the island's solar potential will generate electricity analogous to that produced by the Yangtze River's Three Gorges project, the world's biggest hydropower project.
"In the long run, we can even transmit extra solar power to other provinces," Lin said.
With low and spacious residential buildings the norm in Hainan's rural regions, roofs of most homes are well suited to solar panels, Lin said, and farmers using solar power can sell their extra electricity once it is linked to the grid.
Hainan already has small-scale projects to promote clean energy. This year, Sanya is investing 11.3 million yuan ($1.59 million) to build a total of 160 bus kiosks using solar power.
Foremost among the obstacles to going green is cost, Lin said - solar power requires investment several times higher than coal or hydropower. In addition, he said, China is still at an early stage of solar research and development.
Despite the obstacles, China's solar industry is growing at 20 to 30 percent a year. Xinhua News Agency has reported that, by 2010, the nation will rely on solar power for 1 percent of its energy needs. China passed a renewable energy law in 2005, and clean energy is expected to account for 16 percent of China's energy consumption mix by 2020, up from 7 percent at present, Xinhua news agency reported.
However, industry insiders said rampant development exists in the sector. Huang Ming, chairman of Himin Solar Energy Group from Shandong province, said the government should take concrete actions in encouraging technological breakthrough in solar energy research.
Huang called on national technological and safety standards for all the solar power equipments. He also said taxation and financial incentives should be designed to expand the environmentally sound energy exploration and utilization.
"I agree with him and we need preferential policies from the central government to change the situation," Lin said. "The sooner the better."
(China Daily 03/19/2008 page8)