Provision of safe water 'top priority'
By Lin Shujuan (China Daily)
Updated: 2008-03-19 07:28
Construction of a water-saving mechanism is essential to ensuring safe drinking water for millions of people in Gansu, Xu Wenhai, director of the provincial water resources bureau, said yesterday.
"As one of the poorest and driest areas in China, providing drinking water for every person is a social welfare concern that comes even before food," Xu, an NPC deputy, said on the sidelines of the congress.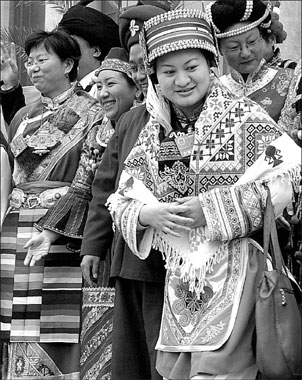 NPC deputies from ethnic minority groups leave the Great Hall of the People yesterday at the end of the 14-day annual session of the top legislature. Jiang Dong
Droughts and dry spells are common in the mountainous province of more than 27 million people. Residents rely primarily on rain-fed subsistence farming, he said.
"Over the past two decades, traditional approaches, such as using tanks to harvest rainwater and water diversion projects, have helped more than 7 million people," Xu said.
However, in a province, where the annual average precipitation is just 277 mm, traditional means are usually not enough. This is particularly true in areas where rainfall is scarce or diversion of usable water from other areas can be too costly, he said.
"Water shortages are still a frequent threat to about 12 million people, including 2 million who face difficult access and 450,000 facing extreme access difficulties," Xu said.
"Making do with currently existing water resources is a daunting challenge, but it's the best way to ensure sustainable development."
When the country announced the construction of a water-saving society in 2001, Gansu became the first pilot province for the initiative, Xu said.
Since then, it has been working on water-saving mechanisms and cultivating greater awareness of the need for water efficiency among residents.
In Zhangye prefecture the government initiated a water coupon program to urge residents to save water, Xu said.
People who save coupons can trade them on the market, and the water management unit buys them back for up to 120 percent of the price paid.
According to official statistics, the system has saved about 480 million to 580 million cu m of water, about one-sixth of the annual consumption.
"We are promoting such practices province-wide, aimed at providing enough drinking water for 4.6 million more people by the end of 11th Five-Year Plan (2006-10)," Xu said.
In order to reach the goal, the central government has allotted 450 yuan ($65) per resident, which amounted to 160 million yuan last year.
(China Daily 03/19/2008 page7)