China will not rush to get to moon
By Lin Shujuan (China Daily)
Updated: 2008-03-19 07:28
Despite the success of China's first lunar probe Chang'e I, the country is still in the "initial stage" of space travel compared with the United States, Russia and Europe, NPC deputy Hu Hao, director of the moon exploration center under the Commission of Science Technology and Industry of National Defense, said yesterday.
"Scientific research can't be rushed," Hu said, citing proposals urging scientists to accelerate the pace of lunar exploration projects.
"Lunar travel is an undertaking that is difficult, risky and requires huge investment. You can't take a wish-list approach to it."
Hu also dismissed the rumor that China is planning a manned moon landing in 2020.
"You can't declare yourself the boss of a chicken farm when you've only got one egg now, can you?" he said.
China's current moon program comprises only unmanned probes, he said.
The launch of Chang'e I was the first in a three-stage mission, which will culminate with the launch and landing of a rover vehicle around 2013. In the third phase, scheduled to be around 2020, another rover will land on the moon and return to Earth carrying lunar soil and stone samples for research.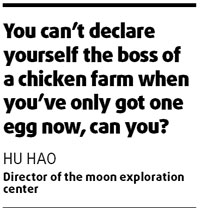 The first phase of the project was achieved using solely domestic technology, products and designs, Hu said.
"The success (of Chang'e I) has helped train a professional team and has created a good foundation for us to achieve the mission's next aim," he said.
"However, it doesn't mean that landing a rover on the moon is going to be easy. In fact, like in a video game, it gets harder the further you progress."
Among the challenges facing scientists is designing a lunar rover "capable of meeting the requirements of the lunar environment", Hu said.
The most difficult part is coping with the tremendous temperature differences, which range from minus 170 C to 130 C, in addition to manoeuvring on the lunar surface, he said.
About 20 universities and institutions are working on designs for the lunar rover, but "no candidate has been able to fulfil the requirements so far", Hu said.
"In fact, we are working harder than before," Hu said, adding that the success of Chang'e I has raised people's expectations.
"These expectations, on one hand, provide positive encouragement for us. On the other, it means we simply can't fail.
"Otherwise, they will think we are getting slack and lazy."
Hu said the center's lunar scientists understand there is now greater pressure on them.
"We will continue to work to develop our own technology throughout the whole lunar exploration project," he said.
"At the same time, we are also inviting more international cooperation, because China's space industry, is still in a developing stage."
(China Daily 03/19/2008 page7)