British support for Chongqing plan
By Jiao Xiaoyang and Zhang Haizhou (China Daily)
Updated: 2008-03-19 07:28
Chongqing, the most populous city in China, is testing a development scheme designed to break the barriers between urban and rural regions in land use, household registration, employment, social security and other public service systems.
Authorities hope the plan will show the way forward for balanced growth and shared prosperity for China as a whole.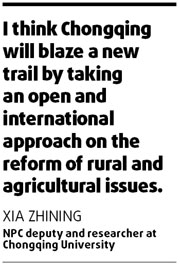 What makes the Chongqing plan different from previous schemes is that the authorities are working in cooperation with the British government.
At the end of last month, visiting British Foreign Secretary David Miliband and the Chongqing municipal government signed a memorandum of understanding (MOU) on cooperation for the city's urban-rural coordinated development program.
Xia Zhining, an NPC deputy and vice-dean of Chongqing University's Research Institute for Urban-Rural Coordinated Development, said Chongqing and the British are working together to create an action plan for the implementation of the MOU.
The action plan will help Chongqing develop in various areas, including rural finance, education and the environment.
"Britain has a very mature agriculture, and its financial industry is world-beating," Xia said.
"It would be very helpful for Chongqing to introduce British expertise in these areas."
Chongqing is home to about 32 million people, 80 percent of whom live in rural areas.
"I think Chongqing will blaze a new trail by taking an open and international approach on the reform of rural and agricultural issues, which are traditionally seen as purely local ones," Xia said.
The British Consulate in Chongqing has confirmed work on an action plan for the cooperation has started.
Alex Needham, UK consul for bilateral relations in Chongqing, said: "The action plan aims to give rural people more access to financial services.
"A number of British financial institutions are working on a proposal with the municipal government and some Chinese banks."
The British side is also helping to improve communication on education with the municipality.
Under the MOU, London will provide scholarships for professional training at British universities for three Chongqing residents each year.
"To qualify, applicants must be working in an area that is related to Chongqing's pilot project on balanced urban-rural development," Needham said.
Successful candidates can choose to do a one-year master's course or a three-month training program, she said.
The British government is also considering setting up and funding a Center for Excellence for vocational training for the city's workers, Needham said.
(China Daily 03/19/2008 page6)