Islamic industries set to grow
By Zhu Zhe (China Daily)
Updated: 2008-03-19 07:28
Born and raised in the Ningxia Hui autonomous region, chairman Wang Zhengwei has a vision for the region's future.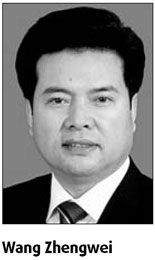 "With one-third of our 6 million people being Muslims, Ningxia should become a platform for economic and cultural exchanges between China and other Muslim countries," Wang, who was appointed chairman in January, said.
As the country's only autonomous region for the Hui ethnic minority, Wang said in an interview with China Daily on the sidelines of the NPC session, which ended yesterday, that Ningxia has a "natural connection" with the Islamic world.
Speaking as a Muslim, Wang said the vast demand for Islamic products in overseas countries provides huge potential for Ningxia to develop an Islam-oriented industry.
Currently, there are about 1.3 billion Muslims in the world. And because of natural conditions, many Islamic countries must import a great number of Islamic products.
Wang said Ningxia has developed many Islam-oriented industries over the past few years focusing on goods such as beef and lamb, dairy products, fabrics, garments and cultural products.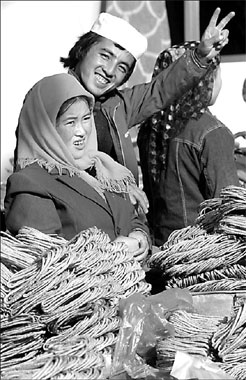 Local Muslims sell snacks in front of a mosque in Yinchuan, Ningxia Hui autonomous region. File photo
"Now we have the country's biggest wholesale market for beef and lamb in Wuzhong city, and the country's biggest trade market for Chinese wolfberry in Zhongning county," he said.
"In the city of Lingwu, we also have a major distribution center for cashmere."
Wang said Ningxia has started doing business with several Muslim countries, such as Saudi Arabia and Malaysia, and will continue to open up the market.
"We've held the China International Halal Food and Muslim Commodities Festival for two consecutive years, each of which attracted hundreds of businesspeople from across the Middle East," he said.
"Starting this year, we'll hold the annual China Convention of Entrepreneurs of the Hui Ethnic Minority to further expand trade with Muslims from China and abroad."
Figures from the Ningxia government show the region's exports and imports rose to $1.6 billion last year, up 14 percent year-on-year. Most of the exports were of Islam-oriented products.
"We expect export volume to soar in the coming years," Wang said.
He said Ningxia also encourages entrepreneurs to go outside of the region, and even outside of China, to set up branches or offices.
However, Wang admitted that better logistics and transportation are needed if Ningxia wants to develop foreign-oriented Islamic industries.
NPC deputy Ma Guoquan also proposed at this year's NPC meeting that the country's food safety authorities should establish quality standards on Halal food similar to those in many Muslim countries.
(China Daily 03/19/2008 page6)