Doctor's prescription for ailing healthcare system
By Zhao Xu (China Daily)
Updated: 2008-03-19 07:28
Dennis Lam Shun-Chiu is distinguished from his fellow NPC delegates from Hong Kong by being a doctor, which makes him one of the few professionals in a delegation comprised mainly of seasoned politicians and business tycoons.
And, rather surprisingly, when the Hong Kong delegation hosted an open-door discussions during the meeting, the doctor talked with great passion about the lack of medical services in rural China and ways to improve the situation.
Lam's words aren't based on imagination or stereotypes but rather on personal experience.
Since 2004, the doctor, who specializes in ophthalmology, has been involved in what he describes as a "medical poverty alleviation project" in the country's most remote areas.
"In the beginning, we toured the regions and set up temporary clinics. Lots of people came to see us," Lam said.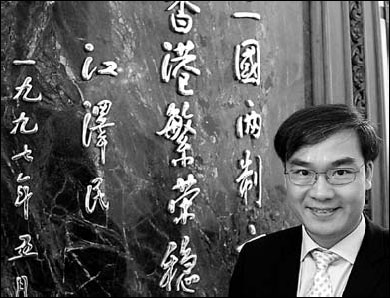 Dennis Lam Shun-Chiu poses in front of a sign that reads "implementing the 'one country, two systems' policy and building a prosperous and stable Hong Kong", written by former president Jiang Zemin. Jiang Dong
"But there was one problem: Once we were gone, the clinics were gone. And those who wanted help would have to wait indefinitely for our next visit."
For Lam, the thought of leaving his patients behind was almost unbearable. That was what led him to start thinking about turning the peripatetic clinics into permanent institution. And the way to do this, according to Lam, is through localization.
So far, nine such clinics, dubbed by Lam as "stationed medical teams", have been established in three regions.
Meanwhile, Lam also initiated the "Health Express Project" to train rural doctors over the Internet. The doctor said the measure was designed according to practical concerns.
"The idea first came to me when I realized that in rural China, many people have access to the Internet," he said. "Bearing in mind the large number of rural doctors who need training, distance education is probably the best and the most feasible way."
One of the co-founders of the Joint Shantou International Eye Center of Shantou University and the Chinese University of Hong Kong, Lam spends much of his time on the mainland.
His experiences have endowed him with a deeper knowledge of practices in hospitals, as well as the challenges they face.
Above all, he wants better use of the government funds earmarked for public hospitals.
"Fundamental problems remain in the allocation of funds," he said.
"The common practice is to allocate funds according to the number of beds a hospital has. But as you know, many - for example, the eye hospital I'm working with - don't have a lot of beds simply because it's unnecessary."
According to Lam, rather than maintaining a high occupancy rate for their beds, hospitals should be able to provide patients in-home treatment.
Lam said the central government last year spent more than 83 billion yuan on medical care, compared with the 30 billion yuan spent on healthcare by the Hong Kong regional government.
"Bearing in mind the size of the country and the number of people who are in need of help, 83 billion yuan really isn't a lot of money," he said.
"That's why we need to think twice before spending any of it."
(China Daily 03/19/2008 page6)