Hu pledges to do his utmost to serve people
(China Daily)
Updated: 2008-03-19 07:27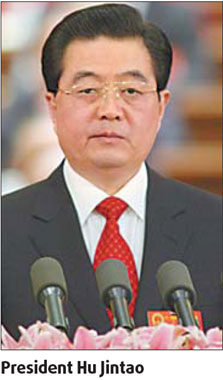 President Hu Jintao yesterday pledged clean governance and appropriate use of power to serve the people wholeheartedly.
"I will serve the people and exert myself to work for the country ... be a good public servant and sincerely seek benefits for the people," Hu said at the closing meeting of the first session of the 11th NPC in Beijing.
He expressed thanks to the NPC deputies and the entire nation for their trust, saying the new leadership will keep to clean governance and willingly accept supervision from the people.
"We will strictly exercise self-discipline, devote ourselves to the public, and serve the country and the people in a cautious, conscientious and clean-fingered way.
"I will do my utmost not to let you down," he said.
China's new leadership, he said, will advance democracy and the rule of law, unswervingly maintain the uniformity, solemnity and authority of the socialist legal system, promote social equity and justice, and safeguard social harmony and stability.
"We will keep to the principle of putting people first, respect the people's status, exert their pioneering spirit and safeguard rights and interests," he said.
Hu said the new leadership will keep working in a practical manner, free their minds, seek truth from facts and keep up with the pace of the times.
"We will take every opportunity, face every challenge, courageously seek reform and innovation and do everything in accordance with objective rules."
The president spoke highly of China's achievements in reform, opening up and the modernization drive in the past five years, which he attributed to the concerted efforts of the people.
"China has entered a critical stage for reform and development," he said, citing the extensive and profound reforms in China and changes in the world.
Facing the new situation and new tasks, Hu said China must keep to its reform and opening-up drive, promote scientific development, social harmony and the building of a moderately prosperous society in all respects.
He expressed confidence that the country will achieve new victories, strive to advance socialism with Chinese characteristics and maintain unity.
Xinhua
(China Daily 03/19/2008 page5)