Trickier times for economy: Premier
By Xin Zhiming (China Daily)
Updated: 2008-03-19 07:27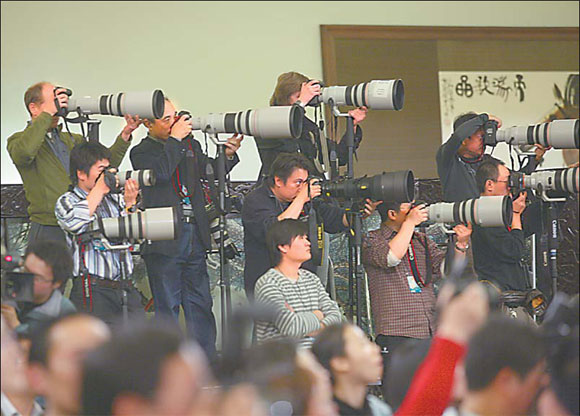 Photographers line up to click pictures of Premier Wen Jiabao as he met the press yesterday. Huo Yan
China is set to face the most severe challenges this year in tackling inflation and balancing economic growth, Premier Wen Jiabao said yesterday, adding that world economic uncertainties will be entangled in domestic policymaking.
"First (of the things in my mind) is to ensure stable and fairly fast economic growth while effectively controlling inflation," he told reporters.
China's economy expanded by an annualized 11.4 percent last year - a 13-year high - while its consumer price index (CPI), the key gauge of inflation, rose by 4.8 percent.
In December, the central authorities decided to take preventing economic overheating and keeping price rises from evolving into entrenched inflation as top economic priorities this year.
But driven by the harsh weather that hit parts of central and southern provinces and affected transportation and commodity supply, the CPI rose to an 11-year high of 8.7 percent last month. And this has made it more difficult to meet the target of 4.8 percent for this year.
"To be honest, it's not easy to achieve this goal, especially given that we suffered snowstorms in the first two months of the year, the severity of which was rare in our history."
Wen remained confident, however, that the government will take effective measures to ultimately anchor prices.
"We are still sticking to the target (of inflation control)."
The ample grain stock, which stands between 150 million and 200 million tons, will help stabilize food prices, a major driving force of price rises, Wen said.
Also, the supply of main industrial goods still prevails over demand, which will help curb price rises.
As the CPI hit 8.7 percent last month, analysts said the coming months will be crucial.
They will decide whether policymakers take more and harsher tightening measures to prevent price rises from going unchecked.
Morgan Stanley (Asia) said in a research note based on the latest data available on Friday that the year-on-year CPI inflation for this month might be lower than 8.5 percent, down from 8.7 percent last month.
If that happens, the research note said, it will "lower the probability that authorities will adopt a drastic tightening policy to tackle inflation".
Apart from rising prices, Wen said the global economic uncertainties will pose serious challenges to China's economic policymaking.
"I feel deeply worried about the global economic situation - especially in the US economy."
The expected slowdown in the world economy, dragged down by the credit crunch-triggered crisis in the US, will reduce foreign demand for Chinese products, analysts have said.
"China's economy will feel the impact of global economic developments this year, with global growth prospects bringing considerably weaker growth and more uncertainty," Louis Kuijs, senior economist of World Bank's Beijing office, said.
"This will particularly affect China's export growth and the investment plans of those companies that rely on foreign demand for much of their sales."
The premier said China's economic prospects are good despite the many challenges.
"The fundamentals of the Chinese economy remain sound," he said.
"(Chinese) firms have respectable profits and liquidity is ample, supporting investment, while consumption is also growing briskly, buoyed by solid income growth," Kuijs said.
"Barring drastic events globally, China's economic growth should remain healthy, even if it may dip to single digit levels this year."
(China Daily 03/19/2008 page5)