China to ratify treaty 'soon'
(China Daily)
Updated: 2008-03-19 07:27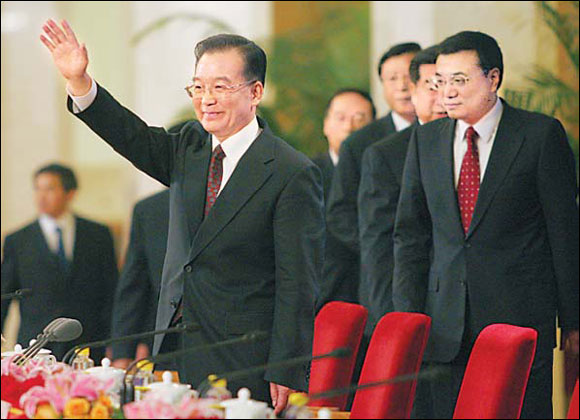 Premier Wen Jiabao waves to the media as he and four vice-premiers arrived at a press conference yesterday. Xu Jingxing
China will ratify the UN Covenant on Civil and Political Rights as soon as possible, Premier Wen Jiabao said yesterday during a press conference at the end of the NPC session.
"We are coordinating all related parties and trying to make domestic laws consistent with international laws," Wen said.
China signed the United Nations human rights treaty in 1998. It covers freedom of expression, religion, assembly movement and speech, participation in public affairs and elections, and equality.
But the National People's Congress has not ratified the document and the covenant has not yet taken effect in China.
Wen refuted the accusation that China has increased its efforts to arrest individual dissidents prior to the Olympics, saying it is totally unfounded.
The premier said the government is working to advance the reform of its political system, including the judicial system.
"The fundamental goal of advancing judicial system reform is to achieve justice," Wen said, adding that major steps have already been taken.
In one instance, the Supreme People's Court (SPC) has taken back the power to examine and approve death penalties and tightened restrictions on the number of death sentences, Wen said.
Huang Er'mei, head of the criminal tribunal with the SPC, told Chinese-language media earlier during the NPC and CPPCC sessions that about 15 percent of death penalties have been overruled by the SPC since the new rule took effect.
"Although the country still has capital punishment, it should be applied only to an extremely small number of serious offenders," former chief justice Xiao Yang said in an earlier interview with China Daily.
Also, Jiang Xingchang, vice-president of the SPC, said half of the country's 404 intermediate people's courts - which carry out most of the executions - use lethal injections.
Jiang said that the use of lethal injection will be extended to replace executions by gunshot.
An amendment to the country's Criminal Procedure Law in 1997 made executions by lethal injection an option.
China Daily-Xinhua
(China Daily 03/19/2008 page5)