Riots aimed at derailing Games: Wen
By Zhao Huanxin (China Daily)
Updated: 2008-03-19 07:24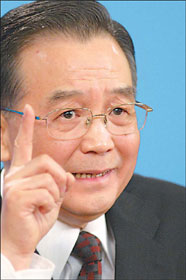 Premier Wen Jiabao answers questions during a news conference at the Great Hall of the People in Beijing March 18, 2008. [China Daily/Wu Zhiyi]
The appalling violence in Tibet - in which rioters used "extremely cruel" means to kill and injure innocent people - was aimed at undermining this summer's Beijing Olympic Games, Premier Wen Jiabao said Tuesday.
"We have ample evidence to prove that the riots were organized, premeditated, masterminded and incited by the Dalai clique," Wen said in his first press conference after being elected to a second five-year term by national legislators, who ended a two-week session in Beijing Tuesday.
Wen noted that the riots in Lhasa last week, which involved physical assault, destruction of property, looting and arson, had seriously disrupted public order and damaged the lives and property of residents. Thirteen innocent civilians were stabbed or burned to death.
"This has all the more revealed that the clique's consistent claims of not pursuing independence but peaceful dialogue are deceitful lies."
Wen said the government will continue to protect Tibetan culture.
"The government is fully capable of maintaining stability and order in Tibet, and will continue to support economic and social development, improve the livelihood of all ethnic groups, and protect the culture and environment in the region.
"Claims that the Chinese government is involved in a so-called Tibetan cultural genocide are nothing but lies," Wen said.
The local government and public security forces in Tibet exercised "extreme restraint" when they quelled the riots strictly in line with the Constitution and laws, and protected the interests of the people in Lhasa and Tibet, he said.
"The situation is basically returning to normal ... and Lhasa will be reopened to the rest of the world," he said.
The government will consider organizing a foreign media trip to Lhasa to let them see what happened there, he said.
Wen reiterated that the door of dialogue is still open to the Dalai Lama as long as he renounces his Tibet independence stance, and recognizes that Tibet and Taiwan are inalienable parts of Chinese territory.
The recent riots, however, served to demonstrate that the Dalai Lama is hypocritical in these two key issues.
"The Chinese government's original position is still unchanged," Wen said. "We mean what we say. It is up to his actions We need to watch what the Dalai Lama does."
Meanwhile, the Tibet regional government said Tuesday that 105 people had surrendered to police by 11 pm Tuesday for involvement in the Lhasa riots.
An official said those who surrendered were "participants, and some were directly involved in the riots last Friday".
"Some handed over money they'd stolen," the official added.