Hu vows clean governance as session closes
(China Daily)
Updated: 2008-03-19 07:24
President Hu Jintao yesterday pledged clean governance and judicious use of power by the new leadership.
"I will serve the people and exert myself to work for the country ... be a good public servant and sincerely seek benefits for the people," Hu said at the closing meeting of the first full session of the 11th National People's Congress (NPC).
He expressed thanks to the nearly 3,000 NPC deputies and the entire nation for their trust, saying the new leadership will willingly accept supervision of the people.
"We'll exercise self-discipline, devote ourselves to the public, and serve the country and the people conscientiously," he said.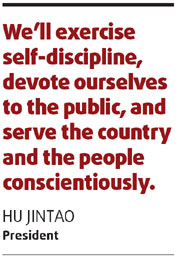 The new leadership, Hu said, will also advance democracy and the rule of law, promote social equity and justice, and safeguard social harmony and stability.
At the closing meeting, NPC deputies adopted resolutions on reports concerning government work, the national development plan, budgets, and the work reports of the 10th NPC Standing Committee, the Supreme People's Court and the Supreme People's Procuratorate.
During the past two weeks, deputies also endorsed the new leadership of the country, including the president, the NPC Standing Committee chairman, the premier and vice-premiers.
A new NPC Standing Committee, a new lineup of Cabinet ministers and an institutional restructuring plan of the State Council were also approved.
"I'm very satisfied with the meeting. I believe the new leadership can lead the country to further prosperity," Lu Xinping, a deputy from the Ningxia Hui autonomous region, said.
"And the president's pledge of clean governance and the rule of law is encouraging," she said.
The reaction from most Chinese was also upbeat and optimistic as they put forward suggestions on what they consider pressing issues.
Li Songlin, a retired cadre in Handan of Hebei province, said he thought "members of the Cabinet are highly professional and have wide knowledge".
As "a common stock investor" and "on behalf of" more than 40 million shareholders, he asked the new Cabinet to take measures to further develop the stock market, as the country's economy is doing "quite well".
China Daily-Xinhua
(China Daily 03/19/2008 page1)