Premier: China faces risk of drastic economic fluctuation
(Xinhua)
Updated: 2008-03-18 10:42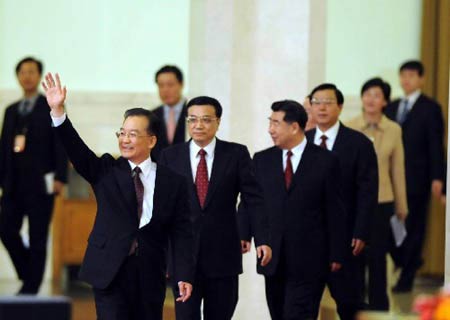 Chinese Premier Wen Jiabao (front left) arrives for a press conference after the closing ceremony of the First Session of the 11th National People's Congress (NPC) at the Great Hall of the People in Beijing, capital of China, March 18, 2008. The annual NPC session closed on Tuesday. [Xinhua]
China faces the potential risk of drastic economic fluctuation, while tackling the biggest challenges of soaring prices and mounting inflationary pressure, Premier Wen Jiabao said on Tuesday.
"We need to blaze a trail in between," he said at a press conference after the closing meeting of the First Session of the 11th National People's Congress.
Related readings:


 Inflation figures pressure China to act


 China's inflation grows 8.7% in Feb


 Food-driven inflation bittersweet for farmers


 Hot money infows may worsen inflation: political advisor


 Stronger yuan not major inflation control means
Wen, who was reappointed premier on Sunday, said his government will ensure rapid yet stable economic development and at the same time to effectively hold down inflation and address problems of "unstable, uncoordinated and unsustainable" development.
Secondly, he said the Chinese government needs the courage and determination to further free people's mind in order to make new breakthroughs in the reforms of the economic and political systems.
Thirdly, he said it's important for his government to strengthen social justice and equity, which means to respect everyone, protect the lawful rights and interests of all, and ensure everyone enjoys equal opportunities for development.
"If the development of economy and improvement of the people's livelihood are the bounding duties of the government, then the promotion of social justice and equity is the conscience of the government."
The premier also stressed cultural advancement and higher ethical standards in China, including higher credibility, integrity, tolerance, fraternity and morality.
"To ensure this country will become stronger and more prosperous, to build a society of equity and justice, to ensure the people live a happy life, our children can go to school and our nation is duly respected in the international community, I'm willing to dedicate myself wholeheartedly to this cause," he said.
In his government work report to the NPC session, Wen said the country was facing "increasing inflationary pressures" and the task of holding down inflation was "difficult".
"The current price hikes and increasing inflationary pressures are the biggest concern of the people," he said.
Last year, China's consumer price index (CPI), a barometer of inflation, rose by 4.8 percent year-on-year, the highest since 1997 and well above the government target of 3 percent.
A week after Wen announced the country's goals to keep inflation at around 4.8 percent, the National Bureau of Statistics said last week inflation climbed to a nearly 12-year high of 8.7 percent in February, driven by a 23.3 percent jump in food prices.
The year 2008 may be the most difficult year for China's economy, Wen said. "It will be harder to make decisions."
The government has set "two prevents" when mapping out this year's economic policies: to prevent the fast-growing economy from being overheated, and keep structural price rises from turning into significant inflation.
Wen Jiabao said that how to properly adopt various monetary policies is a great test to China, as the changes in interest rates and exchange rates have pros and cons.
"No matter what monetary policies are adopted, we shall weigh their advantages and disadvantages and take both aspects into consideration," said Wen.
China has made its currency regime more flexible by letting the yuan appreciate steadily since July 2005, when the government started to de-peg the yuan from the greenback.
"So far, the yuan has appreciated about 15 percent against the US dollar in the past two years, with the appreciation step even faster recently," Wen said.
But he warned that the changes in exchange rates and interest rates will have pros and cons, and any monetary policy shall be adopted with full and comprehensive consideration.
Last year, the central bank raised banking reserve ratio 10 times and interest rates six times to soak up liquidity to help curb surging prices. The reserve ratio was raised once in 2008. Economists expect further interest rate hikes this year.
Anyway, China still has good economic fundamentals with huge market potentials, especially in rural areas, Wen said.
"We shall have confidence in China's economic development," said the premier.
Vice Premiers Li Keqiang, Hui Liangyu, Zhang Dejiang and Wang Qishan were also present at the press conference at the Great Hall of the People in central Beijing.