Change and continuity
(China Daily)
Updated: 2008-03-18 07:25
The lineup of the new national leadership is complete with the National People's Congress yesterday approving the rosters of vice-premiers, State councilors and ministers proposed by Premier Wen Jiabao.
The well-balanced composition of incumbent veterans serving a second term and new faces from the provincial leadership is by and large in accordance with public expectations. Even the new faces are familiar to the public as they have made their mark in manning major economic engines of the country.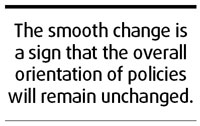 The smooth change is a sure sign that the overall orientation of major national policies will remain unchanged.
Over the past five years, these major policies have effected changes in ways of pushing for economic growth, with growing emphasis on ensuring fairness and equity, protecting the environment, and bridging the divide between the urban centers and the countryside.
And we expect the new leadership, from the legislature to the State Council, to carry on the momentum to enhance the rule of law, improve governance, battle corruption and maintain social stability.
We place high hope on the new leadership to ensure that, despite the possible economic slowdown the world over, China's economic juggernaut will continue to roll on with better efficiency and less waste and pollution while offering more tangible benefits to the people.
While embracing the new leaders, we express our deep respect for all the veteran officials who are retiring from their posts, among them Wu Yi, who is bidding farewell to the national political stage.
She made a name for herself with her role in trade negotiations with the United States and other major Western nations, in the fight against SARS (severe acute respiratory syndrome), and more recently, the regulation of the problematic food and drug markets.
We will cherish fond memories of her achievements in those fields. Whatever she chooses to do after retirement - she once said she wanted to learn Chinese medicine - we wish her, and all her retiring colleagues, the best of luck.
(China Daily 03/18/2008 page9)