'People's war' on drugs sees gains
By Jiao Xiaoyang (China Daily)
Updated: 2008-03-18 07:23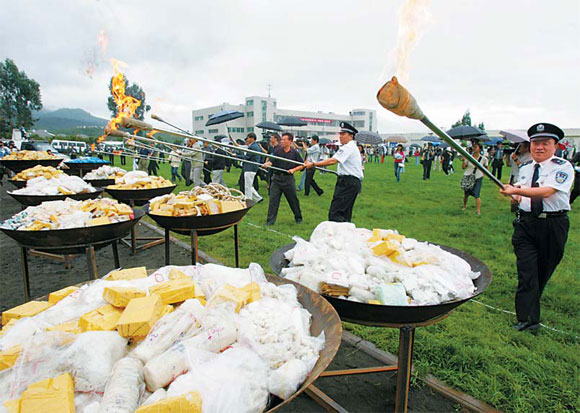 Police burn up to a ton of confiscated drugs in Kunming, capital of Yunnan province, in June 2005. Su Ying
Yunnan, the southwestern province neighboring the drug-ridden Golden Triangle, has scored a major win in China's fight against drugs, thanks to hi-tech methods and assistance from citizens from all walks of life, the province's police chief said.
The success came, however, at the cost of dozens of police force casualties, Meng Tiesu, director of Yunnan's public security bureau, told China Daily.
In an unprecedented "people's war on drugs" from 2005-07, Yunnan busted 1,600 drug-trafficking gangs, captured 62,476 suspects and confiscated about 28 tons of drugs - which accounted for 80 percent of all drug seizures nationwide, Meng said.
For the first time in the past two decades, with raids on the rise, the amount of heroin confiscated in 2007 declined from the previous year.
With the anti-drug campaign occupying one-fourth of Yunnan's police force, a multi-million-yuan annual budget, and everything from intelligence to border inspection to gunbattles, "the trend of massive drugs flows has been effectively stopped," Meng said.
Yunnan police set up 313 inspection posts in air and river ports, bus and railway stations and mail offices to counter bulk drug transport; and equipped every inspection station with X-ray facilities to screen for concealment cases, Meng said.
The province also initiated a large-scale publicity campaign to make sure anti-drug awareness reaches every classroom, every office, every family and every village. More than 100,000 citizens took part in an anti-drug volunteer corps, and monetary awards for informers resulted in thousands of busts.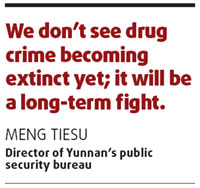 Still, Meng acknowledged that even bigger challenges continue to lie in the poppy fields across the borders as well as in the domestic drug market.
"Our fight against drug-related crimes at home is nothing more than passive defense if we cannot touch the origin of drugs abroad," he said.
Regional solutions require coordinated cross-border efforts, and since 2005, Yunnan has stepped up cooperation with Myanmar, Laos and Thailand, as well as with the United Nations Office on Drugs and Crime. Yunnan police have been working with Myanmar local authorities to stop poppy cultivation in the border area.
In the past three years, Yunnan has invested nearly 400 million yuan ($56 million), 150 million of that amount a central government subsidy, to help Golden Triangle farmers grow more than 670,000 hectares of profitable crops to replace poppies.
Satellite imagery shows the size of poppy fields in the Golden Triangle has diminished from 63,000 hectares in 2005 to 18,000 hectares in 2007, Meng said.
Meanwhile, Yunnan police have redoubled efforts to crack down on drug consumption in the province.
Much of the work centers on Dehong, a prefecture of a million inhabitants which accounts for one-third of the province's more than 60,000 registered drug addicts.
Meng has visited the area and seen destruction that drugs have wreaked upon families; in some villages, he said, one-third of the people have died from drug-related causes.
Since 2004, Meng said, the province's substance abuse programs have grown from a capacity of 10,000 to 40,000. In addition to mandatory drug treatment, the province also provides many addicts with jobs, sheltered workshops and community support systems.
Yunnan's investment of some 100 million yuan a year in these programs has been well worth it, in Meng's view. "Public security has improved significantly," he said. With an estimated 40 percent of addicts engaging in crime to support their habits, he is certain the money spent is actually money saved.
Looking ahead, Meng anticipates a new round of "people's war" on drugs, aimed at further reducing production, trafficking and consumption. Meng will chair a provincial police conference next month to plan the next steps.
Mindful of the challenges of stemming poppy cultivation outside China's borders and the ever-changing tactics of drug criminals at home, Meng remains determined. "We have had frustrations and even loss of comrades, but this stimulates us to fight harder," he said.
"We don't see drug crime becoming extinct yet; it will be a long-term fight," Meng said. "What we seek is to reduce the harm of drug crimes year by year and turn small gains into eventual triumph."
(China Daily 03/18/2008 page8)