More help for new moms, disabled
(China Daily)
Updated: 2008-03-18 07:23
Proposals and suggestions on social security and welfare from NPC deputies and CPPCC members:
Moms-to-be need more support
Women migrant workers should enjoy better social security rights in regard to childbearing.
Due to the high cost of giving birth in the cities where they work, many travel long distances back home to do it.
However, according to a survey released in 2006 by the All-China Women's Federation, less than 7 percent of women migrant workers have childbirth insurance - the lowest rate among the five other social insurances.
Many firms maintain the traditional attitude that childbearing is an individual concern and tend to not consider the welfare these women are entitled to receive.
Proposed by: Chen Saijuan
NPC deputy and director of Shanghai Institute of Hematology.
Incentives for insurers
Insurance companies should be encouraged to participate in the development of a multi-level old-age insurance system. With a growing aging population it is still difficult to provide welfare for the all solely through the basic social system.
In recent years, finance and insurance firms have accumulated a large amount of capital, which, due to policy restrictions, can only be invested in national bonds and in the banking industry. The restrictions are expected to spur development in the welfare industry for the aged, which is still in its early stage of development.
Also, greater participation in the development of the old-age insurance system will effectively enhance insurance firms' competencies and raise awareness of corporate social responsibility.
Greater involvement should be provided to insurance companies through tax reductions, and favorable treatment in land and business operation fees.
Proposed by: Dai Hao
PPCC member and a member of All-China Federation of Industry and Commerce.
More charities needed
Greater efforts should be introduced to enrich charity mechanisms and projects to improve their overall results.
The priority is to enhance the development and implementation of philanthropic projects involving disaster relief, medical care support, and assistance for orphans and the disabled. Coverage should also expand to cultural, artistic and environmental protection projects. Second, it is vital to establish a comprehensive donation system with improvement in the coordination and organization of support and relief efforts.
Reform among charitable institutions at local levels should be guided, and these institutions should be encouraged to develop a greater awareness of branding.
Charitable organizations from civil society should play a larger - even a major - role in the development of the charity industry.
The social security law should give more space for charity. And at the same time, a philanthropy law should be drafted and issued in the near future, further clarifying the legal status, rights, duties, operational procedures and supervising mechanisms of the sector.
Proposed by: Yang Chao
CPPCC member and President of China Life Insurance (Group) Company.
Putting more disabled drivers behind the wheel
More disabled people should become able to drive cars and apply for drivers' licenses through the further relaxation of requirements on their qualifications and the development of supportive facilities.
Many disabled people are capable of driving vehicles, and those who are should enjoy the right to get drivers' licenses.
A survey of 1,000 Chinese with disabled limbs aged between 20 and 50 found that about 90 percent intend to buy cars.
This month, regulations were issued on the standards of supporting facilities for people with eight kinds of disabilities.
People with disabled right lower limbs and those with hearing disabilities should be able to drive before the Olympic and Paralympics.
Proposed by: Bo Shaoye
CPPCC member and director of the rights protection department of the China Disabled Persons' Federation.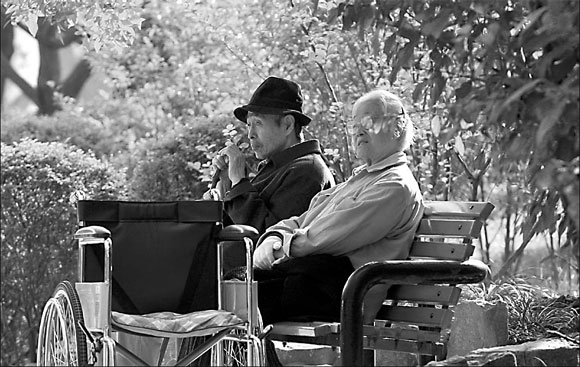 An elderly couple sits on a bench in a park in Jinan, Shandong province. The country is facing growing pressure to expand its social security system to accommodate a rapidly aging population. File photo
(China Daily 03/18/2008 page7)