Sports equipment firm lands 6 Olympic golds
By Tan Yingzi (China Daily)
Updated: 2008-03-18 07:22
Bian Zhiliang is a man with ambition.
In just 30 years, the farmer-turned-entrepreneur from Shandong province has developed his small family workshop into the largest sports equipment supplier to the Beijing Olympics.
"The Olympics has brought my company to a new height and we are trying to make Taishan a world well-known brand, like Nike and Adidas," the president of Shandong Taishan Sports Industry Group told China Daily on the sidelines of the first session of the 11th CPPCC last week.
As Asia's largest specialized sports equipment manufacturer, Taishan beat off challenges from several international competitors last year to win the supply contracts for six sports at the Beijing Games. It will provide about 200 types of equipment for gymnastics, athletics, taekwondo, judo, boxing and wrestling.
"Since I started working in the sports industry, I have dreamed of seeing my sports equipment at the Olympics," the newly elected CPPCC member said.
"Our major marketing strategy is Olympic-oriented and we will continue to provide equipment to the 2012 London Games and beyond."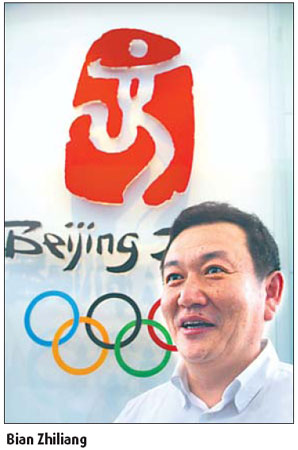 Bian was born into a farmer's family in the small city of Leling, Shandong province. Before starting his own business, he did various jobs including tilling fields, repairing roads and selling sailcloth.
But in 1983, he chanced on a piece of information that would change his life: A local police school was in need of training sacks and mats.
"It sounded like a much more profitable business than selling sailcloth, and I thought I could make those things by myself," he said.
Bian managed to persuade the school to award him the contract after showing them a sample of a gymnastics mat he had made by hand, sitting on his bed at home.
While the 10-mat contract was worth only a modest 2,000 yuan ($280), it was his first step on the road to success in the global market for sports equipment.
Since the beginning, Bian has known that technology is the core of sports equipment.
Today, his company spends an average of 20 million yuan a year on research and development. The investment has resulted in Taishan achieving quality certification from many international sports organizations and paved its way to major international sports events.
With about 2,300 employees, Taishan has a 90-percent share of China's sports event market. In 2005, it supplied more than 92 percent of the equipment used at the 10th National Games.
Taishan equipment and artificial turf are exported to countries in North and South America, Europe, Southeast Asia and Africa. In 2004, it cooperated with Dutch firm J&F Company to supply sports equipment for the Athens Olympics.
"China is the world's largest market for sports equipment, but the industry accounts for just 0.3 to 0.5 percent of the country's GDP," Bian said.
"We need to set up an association to promote and protect China's sports industry."
The CPPCC member has drafted a proposal to suggest the State General Administration of Sports, the governing body of the country's sports development, establish China Sports Industry Association.
"It can provide up-to-date information to Chinese sports equipment manufacturers and work as a platform for communication and exchange between China and other countries."
(China Daily 03/18/2008 page5)