Good public health is national wealth
By Shan Juan (China Daily)
Updated: 2008-03-17 07:08
It's the second time Wang Fangwei is in a hospital seeking treatment for his stomachache. And the 28-year-old Beijing-based clerk is desperate to see a doctor.
His turn comes after a two-and-half-hour wait because the doctor had to attend to 20 other patients before him. But Wang still feels lucky. There's a reason for that. The day before a doctor had asked him to come early the next day because he had too tight a schedule to attend to him.
"Such instances are not rare in hospitals, especially large ones, these days," says Wang. "An illness is a big pain in itself, but waiting in a queue to see a doctor and footing the medical bill is a much, much bigger pain."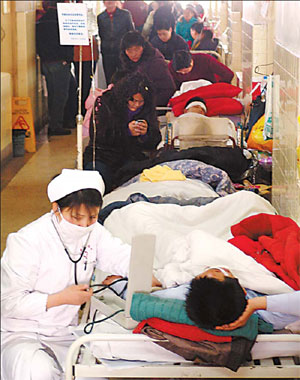 A nurse treats patients at a hospital in Xiangfan, Central China's Hubei province. Gong Bo
Mounting public criticism of the extremely high costs of healthcare, lack of access to treatment and medicines, poor doctor-patient relationships and the limitations of the medical security system have compelled China to begin a new round of medical reforms.
The previous round of reforms was launched in 2005 basically because healthcare hadn't been streamlined, thanks to hospitals' and drug companies' rush to make profit.
A recent National Bureau of Statistics survey on "unsafe" healthcare factors shows soaring medical costs are the people's top concern. "We, the ordinary wage-earning people, cannot afford to be ill" because even medicines prescribed for common cold can cost several hundred yuan, says Wang.
"Rocketing drug prices are mainly to blame for the high cost of healthcare," says Beijing Hospital's veteran doctor Mi Yiying, who is also a Chinese People's Political Consultative Conference (CPPCC) National Committee member. Some 60 percent of the revenue of her hospital is from drug sales.
Drug costs take up more than half of China's total medical spending, according to official statistics. Apart from the expenditure on research and development (R&D) of drugs and fancy drug packaging, marketing and advertisements also drive up the prices, she says.
"TV commercials for medicines are banned in many countries but they are ubiquitous in China," she says. "Big drug companies organize medical research forums and invite doctors to market their products. But who finally foots the bill for these nuisances disguised as essential in the eyes of the law? It's the patients, of course.
"And they are in no position to refuse to pay the high prices, even though they know what pushes them up."
Drug distribution has too many links and loopholes that dealers can exploit to make huge profits, and increasing prices is one of them, she says. Citing an imported drug used commonly by cancer patients as an example, Mi says: "It's sold for 900 yuan in hospitals, three times the wholesale price."
The tragedy is that patients pay ridiculously high prices for the drugs they buy from hospital pharmacies despite knowing why they cost so much. And the many who don't know the same medicines cost a lot less in drugstores outside don't even have a choice, she says.
Under-funded public hospitals are allowed to raise the prices of drugs by up to 15 percent to "pay for their upkeep". This was done after the government abolished the system of providing more than 90 percent of public hospitals' expenses, from infrastructure improvement to raising staff salaries.
So the government subsidy the hospitals get today is used mainly to buy large and advanced medical equipment and to expand their capacity and size, says Lin Jiabin, Beijing Hospital director and another CPPCC member.
Since pays and perks are fixed, many greedy hospital officials and doctors have resorted to malpractice, including taking kickbacks from drug dealers, Lin says. "Greed makes doctors prescribe costly treatments and medicines even when they are not needed at all. This has further strained doctor-patient relationship."
The government is fully aware of the problem, that's why it has put reducing doctors' and hospitals' involvement in drug sales at the top of its medical reforms agenda, according to Xinhua.
"We will separate medical care from pharmaceuticals," President Hu Jintao said last year.
But that didn't mean, as some people assumed, removing pharmacies from hospitals. In fact, Minister of Health Chen Zhu, who is also a CPPCC National Committee member, has dismissed that. "The reform is aimed at minimizing the chances of hospitals and doctors cashing in on drug sales, and not removing pharmacies from hospitals," he says.
The government has taken a series of steps to correct the anomalies in drug sales in hospitals. Since last year, doctors have been ordered to prescribe medicines by their generic instead of trade names to "lower the possibility of prescribing expensive drugs for which they can get kickbacks from drug dealers".
But "we have to treat the disease instead of the symptoms", says Vice-Minister of Health Huang Jiefu, who is also a CPPCC member. "Only with institutional change in the existing drug supply mechanism, and hospital funding and management can the problem be solved permanently."
"And for that to happen all stakeholders, including the Ministry of Health, the State Food and Drug Administration, medical workers and patients, have to cooperate," Huang said.
First, the rights, responsibilities and liabilities of the government, hospitals and doctors have to be defined clearly, says Mi, calling for a long-term effective mechanism to sustain the basic operation and development of public hospitals and pay medical workers fairly.
Premier Wen Jiabao pledged in his Government Work Report that the administration would allocate 83.2 billion yuan to support the health sector. The amount is 16.7 billion yuan more than last year's. "We will set up a national system of pharmaceuticals, too, to ensure a quality and safe drug supply and curb unnecessary price rises," he said.
Besides, the country will launch pilot projects to reform public hospital administration in some selected regions.
The medical reform plan will be announced to get suggestions from the general public. The government goal, after all, is to provide universal basic medical services at a reasonable price.
(China Daily 03/17/2008 page8)