Constitution guarantees citizens' freedom of speech
By Xie Chuanjiao (China Daily)
Updated: 2008-03-17 07:07
Chinese citizens are guaranteed freedom of speech by the nation's Constitution, Zhang Jun, vice-president of the Supreme People's Court, said on Saturday.
"Citizens have the rights to express their ideas under the legal system, which includes suggestions to and criticisms of the government. These rights are protected by law and by the Constitution," Zhang said.
It is acceptable for people to criticize preparations for the Olympic Games or express their complaints, he added.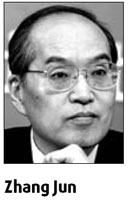 Zhang made the remarks in response to questions raised by foreign media at a press conference on the sidelines of the ongoing legislative session.
But Zhang added: "Freedom of speech does not mean you won't face punishment for slandering and insulting other people."
If the circumstances are serious enough to constitute a crime, those responsible shall be prosecuted, Zhang added.
At the same press conference, senior prosecutors said Chinese judiciary bodies had brought more than 70 criminal suspects back to China from more than 30 countries and regions since 1998, achieving "good results" in catching corrupt officials who had escaped overseas.
"China has been active in seeking international cooperation in its fight against corruption," said Jiang Wei, president of Northeast China's Heilongjiang provincial high people's procuratorate.
The country has become one of the strongest supporters of the United Nations Anti-Corruption Convention.
The official said China has established an international mutual assistance mechanism to pursue corrupt officials who have fled the country.
The mechanism includes signing reciprocal juridical assistance agreements and extradition treaties, as well as cooperation with procuratorial departments in more than 80 countries and regions.
"Corruption is a common global issue targeted by every nation, and we have received abundant international cooperation in recent years," Jiang said.
The successful extradition from the United States of former Guangdong banker Yu Zhendong in 2004 was hailed as a powerful blow against corruption.
Yu was convicted of misappropriating $483 million before fleeing to the United States.
In Heilongjiang, a total of 13 criminal suspects involving job-related crimes have fled abroad since 1991, with five of them successfully returned to China.
"The cost of pursuing such criminal suspects is huge," Jiang said.
"But for those causing serious economic and social harm, procuratorates will spare no expense in bringing them to justice."
Chinese prosecutors are becoming more professional in their pursuit of corrupt officials.
Domestically they have successfully caught 4,547 criminal suspects in the past five years, especially thanks to enhanced cooperation with public security, customs and security departments.
(China Daily 03/17/2008 page7)