Tainted drug probe under way
By Shan Juan (China Daily)
Updated: 2008-03-17 07:07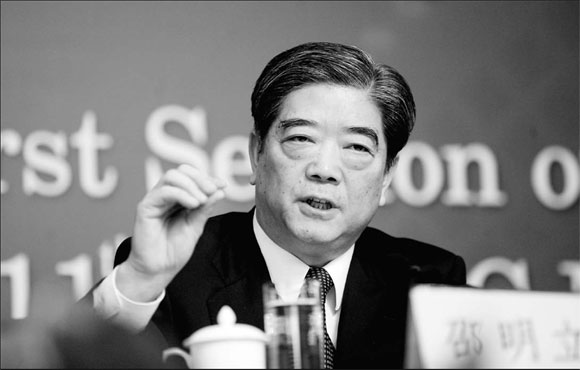 Shao Mingli, director of the State Food and Drug Administration, speaks at a press conference yesterday. Huo Yan
The State Food and Drug Administration has been closely cooperating with its US counterpart in the investigation into the contaminated blood-thinner heparin, which was made with ingredients from China, Shao Mingli, the director of the administration, said yesterday.
The investigation is continuing, he said, and its final results will be announced as soon as possible.
Heparin has been linked to hundreds of allergic reactions and possibly 19 deaths in the US.
The active ingredient in the problematic heparin was supplied to its producer, US-based Baxter Healthcare Corp by Scientific Protein Laboratories (SPL) of Waunakee, Wisconsin, and its supplier plant, Kaipu, in Changzhou, Jiangsu province, said Wu Zhen, deputy director of the administration.
"There is so far no contaminant spotted in the samples from the exporter," said Wu, adding that the firm uses SPL production techniques and follows US drug standards.
However, the US Food and Drug Administration allegedly found a heparin-like contaminant during an inspection of the plant.
The majority of the batches it produced from Chinese ingredients did not test positive for the contaminant, and it pledged to test every new batch, SPL was quoted by Reuters as saying. Kaipu has already halted its production.
Wu acknowledged the facility is a chemical plant not qualified to make ingredients for pharmaceuticals. "Organizations and enterprises in the drug business should trade with qualified pharmaceutical companies," he urged.
There are now 23 pharmaceutical companies in the country approved by the SFDA to produce ingredients for heparin, he noted.
No mass adverse reactions related to heparin were reported in China, he added.
Some chemical manufacturers take advantage of regulatory loopholes to produce and sell pharmaceutical ingredients, according to Wu.
Pharmaceutical companies are regulated by the SFDA, while chemical plants are supervised by other agencies.
The problem arises when chemical companies cross over into making pharmaceutical ingredients. "We have never investigated a chemical company as it's beyond our scope," said SFDA spokeswoman Yan Jiangying.
To address the problem, a nationwide survey is under way to find out how many of China's estimated 80,000 chemical companies make and sell ingredients used in pharmaceuticals, Wu noted.
Vice-Premier Wu Yi vowed last year to conduct inspections of all chemical plants in the country this year in order to correct wrongdoings.
Departments including the SFDA are now busy considering countermeasures to clean up this sector, according to Wu Zhen. "The key is to establish clear-cut rules in order to facilitate supervision and management," said Wu.
Heparin is derived from pig intestines and used in kidney dialysis, heart surgery and procedures to prevent blood clots.
US health regulators said on Friday they had ordered the detention of all imported supplies of heparin blood-thinner products so they can be tested for possible contamination.
(China Daily 03/17/2008 page7)