Hu gets to grips with the key issues
(China Daily)
Updated: 2008-03-17 07:06
What is it like to lead 1.3 billion people and keep an extremely vast, complicated country on the track of sustained economic growth accompanied with ever-increasing international prestige?
Hu Jintao seems to be the one who can offer an admirable and convincing answer.
The 65-year-old was elected on Saturday to another term of five years as both Chinese president and chairman of the Central Military Commission, the country's top military command, by nearly 3,000 members of the national legislature.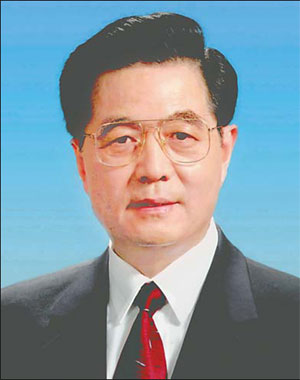 Hu Jintao
Five months ago, he was reelected general secretary of the Communist Party of China (CPC) Central Committee, the paramount decision-making body of the 73-million-member Party.
Five years ago when first taking office as the Chinese president, Hu vowed to the deputies who voted for him: "I will fulfil the duty bestowed on me by the Constitution with great diligence, and serve my country and people heart and soul."
He has proved himself a man of his word with a remarkable performance over the period.
When Hu first took over the helm of the country, what he and his colleagues in the new leadership inherited was a 25-year economic miracle featuring a stunning average annual growth of nearly 10 percent, as well as problems and challenges long veiled behind the rosy GDP figures - widening urban-rural disparities, a yawning income gap and deteriorating environment, to name a few.
In the spring of 2003, almost immediately after the new Chinese leadership was installed, Hu and his colleagues were confronted with the sudden outbreak of severe acute respiratory syndrome (SARS).
One day in April, citizens in Guangzhou, capital of South China's Guangdong province, which was worst hit by the deadly epidemic, were surprised to see Hu Jintao, wearing no face mask, appear on a bustling downtown commercial street, smiling and waving to passers-by.
According to local officials in Guangdong, Hu flew to Guangzhou as soon as he learnt that SARS was peaking in the city and causing widespread public panic.
But Hu wasn't there just to boost public morale. Actually, it was during this Guangdong trip that he first put forth the idea of "a comprehensive conception of development", a well thought-out answer to those hidden problems which had surfaced during the SARS crisis.
Three months later in Beijing, Hu officially called for the endorsement of a new development model for the country, which he said should be more "comprehensive, balanced and sustainable" than the old GDP-oriented growth model.
Four years later, the new theory, now formally named the Scientific Outlook on Development, was written into the Party Constitution at the 17th CPC National Congress, becoming a guiding principle for the country's efforts to build "socialism with Chinese characteristics".
Apart from the Scientific Outlook on Development, Hu was also believed to be the mastermind and strong advocate of many other new political ideas and concepts that gradually became popular phrases in the daily conversations of the Chinese people.
Most of these rather big political terms were simplified into short and easy-to-remember phrases of four Chinese characters, such as "Yi Ren Wei Ben" (putting people first), "He Xie She Hui" (harmonious society), "Zhi Zheng Neng Li" (governance capability of the Party), and "Ba Rong Ba Chi" (eight do's and eight don'ts for social ethics).
This year, as China marks the 30th anniversary of its historic reform and opening policy, Hu has clearly stated that China will "unswervingly adhere" to this policy, which not only enjoys widespread public support , but also keeps up with the trend of the times.
"The orientation and path of reform and opening are entirely correct, and their merits and achievements can never be negated," said Hu. "To stop or reverse it would only lead to a blind alley."
When it comes to promoting democracy in the world's most populous nation, Hu not only has a practical roadmap, but also a feasible plan of implementation.
At the 17th CPC National Congress held in Beijing last October, Hu said in his keynote report that it is necessary to "expand intra-Party democracy to develop people's democracy".
Also at the 17th Party congress, for the first time in history, the CPC engaged its higher-ranking officials in a "democratic nomination" of candidates for the 25-member Party Central Committee Political Bureau, virtually putting the Party's new top leadership through a rare popularity test and competence evaluation.
Very few heads of state could have had a tighter diplomatic schedule than Hu Jintao over the past five years. He set foot in dozens of countries in both the developed and developing worlds. He shook hands with 48 heads of state and government from Africa at the Beijing Summit of the China-Africa Cooperation Forum, giving a strong push to the building of a new type of China-Africa strategic partnership.
A real gentleman
As a graduate of the elite Tsinghua University and a former engineer, Hu always behaves like a real gentleman in the traditional Chinese sense - modest and low profile, kind and easy to approach. However, at critical moments or on matters of principle, Hu is never "gentle" or "soft" in decision-making and taking action.
Hu strongly detests corruption and has repeatedly said: "The CPC never tolerates corruption or any other negative phenomena, just as water and fire can never mix."
In his first five-year term, quite a few high-ranking Party and government officials were subjected to anti-corruption investigations, with those who were found guilty severely punished.
In recent years, the Taiwan authorities have continuously taken provocative actions in the pursuit of "Taiwan independence", posing a severe threat to peace and stability across the Taiwan Straits and in the Asia-Pacific region as a whole.
Faced with this grave situation, Hu Jintao has put forth a series of new policies to help pull cross-Straits relations back onto the track of peace and stability. Taiwan media described his policies as "tougher on tough issues, and softer on soft issues".
In March 2005, Hu put forward a four-point guideline for cross-Straits relations - the mainland will never sway in adhering to the one-China principle, never give up efforts to seek peaceful reunification, never change the principle of placing hope on the Taiwan people, and never compromise in opposing the "Taiwan independence" secessionist activities.
On the other hand, Hu invited Taiwan political leaders, including then Kuomintang (KMT) Chairman Lien Chan and People First Party Chairman James Soong, to visit the mainland, and held historic meetings with them.
During the meetings, he clearly stated that peace and development should become the main theme for cross-Straits relations, as well as the common goal for people on both sides of the Taiwan Straits.
Earlier this month, Hu once again sent an encouraging message to the Taiwan people, saying that: "We shall join hands with as many Taiwan compatriots as possible to promote China's peaceful reunification."
As the Party chief of Guizhou, he traveled extensively for personal investigations, leaving his footsteps in all the 86 counties and cities of the province. During his four-year stay in Tibet, Hu visited many areas and established extensive contacts with people from different walks of life.
A native of Jixi county in eastern Anhui Province, Hu was born in Taizhou city of neighboring Jiangsu Province in December 1942 and grew up there till he was enrolled at Tsinghua University.
Leaving university in 1968, he gained rich experiences working in western China, spending 14 years in Gansu and eight years in Guizhou and Tibet.
In the early 1980s, Hu headed the Communist Youth League of China, the world's largest youth organization.
In 1992, at the age of 49, he became the youngest member of the Standing Committee of the Political Bureau of the CPC Central Committee.
At the first plenary session of the 16th CPC Central Committee in 2002, he was elected general secretary of the CPC Central Committee, and was elected president the next March.
In 2004, he became chairman of the CPC Central Military Commission at the fourth plenary session of the 16th CPC Central Committee.
Xinhua
(China Daily 03/17/2008 page5)