Xi well aware of needs of the grassroots
(China Daily)
Updated: 2008-03-17 07:06
Born into the family of a former vice-premier but tempered by hardships in the countryside, Xi Jinping made his way from village head to State leader.
Xi, 54, was elected vice-president of the People's Republic of China on Saturday, five months after he was promoted to the nine-member Standing Committee of the Political Bureau of the Communist Party of China (CPC) Central Committee, the Party's top decision-making body. His predecessor is 68-year-old Zeng Qinghong.
Xi also takes charge of Party affairs and the Party School of the CPC Central Committee, Hong Kong and Macao affairs, and a top-level leading group for the preparations of the Beijing Olympics and Paralymics.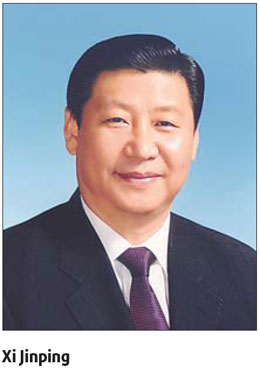 Before coming to Zhongnanhai, the compound of the country's top leaders in downtown Beijing, in October last year, Xi had just reshaped the image of China's financial center of Shanghai as the city's Party secretary. A social security fund scandal had led to the downfall of the city's former Party chief Chen Liangyu and more than a dozen senior city officials and businessmen.
Xi pledged to be "a good student, a good civil servant and a good team leader" upon arrival in Shanghai in March last year and urged local officials to be stricter with themselves.
He also called on Shanghai people to be more open-minded, and increase cooperation and share achievements with other regions of the country, instead of just focusing on the development of their own city.
After seven months of hard work, Xi succeeded in not only maintaining stability in Shanghai but also polishing its tarnished image by bringing fresh blood into the city. Shanghai is now more open, harmonious and dynamic.
Low profile, solid steps
As the son of Xi Zhongxun, a Communist revolutionary hero and former vice-premier, Xi Jinping has, nevertheless, kept a low profile for decades.
He was sent to a remote mountain village in the northwestern province of Shaanxi when he was only 16 years old. He was soon elected the village's Party branch secretary because of his prestige among the local people and enthusiasm for work. He was later recommended for enrollment at Tsinghua University.
After graduation from the Chemical Engineering Department of Tsinghua in 1979, he became secretary to Geng Biao, the then vice-premier and minister of national defense. But three years later, he decided to give up the comfortable life in Beijing and go down to the grassroots to be trained.
In the following two decades, Xi started as deputy secretary of the Party committee in rural Zhengding county in Hebei province, and gained more and more work experience in the country's affluent coastal areas, including Fujian and Zhejiang provinces and Shanghai municipality.
'Do it now'
Officials in Fuzhou, capital of Fujian province, still remember Xi's order on working style in the 1990s when he worked as secretary of the city's Party committee: "Do it now".
Xi explained that this requires not only a high work efficiency but also the quickest response to problems emerging from fierce competition. "Do it now" soon became a common practice of Fuzhou officials.
Xi worked in Fujian for 17 years, serving as vice-mayor of Xiamen in the mid-1980s and ending up as provincial governor in the early part of this decade. During his tenure, Xi dedicated himself to building a service-oriented government, conserving the environment and resources, and promoting cooperation across the Taiwan Straits.
Xi moved to Zhejiang in 2002, when the fast growing province was faced with a predicament - the extensive economic growth mode could not support sustainable development.
After thorough study of Zhejiang's actual conditions, Xi concluded that the province must start all over again with overall industrial restructuring. As secretary of the provincial Party committee, Xi ordered local authorities to shut down or move away highly polluting and highly energy-consuming businesses, and join with neighboring Shanghai municipality and Jiangsu province to achieve scientific and sustainable development.
Retired senior officials in Zhejiang spoke highly of Xi's performance after a long period of observation, saying that he is a man of action without making shows, an open-minded man with a down-to-earth style of work.
Xi married Peng Liyuan, a renowned Chinese folk singer, in 1987. The couple has a daughter.
Xinhua
(China Daily 03/17/2008 page5)