Rural regions central to future growth, PC tycoon says
By Wang Xu (China Daily)
Updated: 2008-03-15 09:47
Rising rural consumption has the potential to become the new engine for economic growth, as the country enters a "sensitive phase", entrepreneur Liu Chuanzhi said on Friday.
"Companies should prepare for the winter and keep abundant cash in hand," Liu, founder of Lenovo Group, the world's fourth-largest PC-maker, said.
"The economy is facing a number of uncertainties such as rising exchange rates and consumer prices, and a potential slowdown."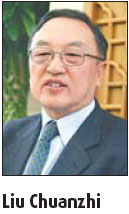 Liu, an NPC deputy, was speaking on the sidelines of the ongoing session in Beijing. The 64-year-old is chairman of Legend Holdings, Lenovo's largest shareholder.
"But I am upbeat about the long-term prospects," he said.
"The rural market is showing great potential to bolster domestic consumption."
The rural market contributed greatly to Lenovo's rapid rise in China. Last year, it sold 10 million computers in China, up from 2 million in 2000, he said.
"A large proportion of those sales were to people in the countryside and in small towns," Liu said.
"Companies in other sectors such as garments and food are also enjoying robust demand in rural areas."
Home to 700 million people, the countryside has long been seen as a potential engine for China's continued development.
But in the past, factors such as slow income growth, insufficient infrastructure and poor social services left rural residents unwilling to open their wallets.
However, over the past few years, the government has introduced a slew of measures to boost the development of the countryside.
It has promised that by 2010, all rural areas will have highways, electricity, mail services, passenger transport services, telephone lines, and rural people with have access to television and the Internet.
The central government said at the ongoing NPC session it will this year increase spending on rural development to a record high of 562.5 billion yuan ($79 billion), up 30 percent on last year.
Ma Kai, minister of the National Development and Reform Commission, said: "We have a big market and great consumption potential in rural regions."
China's future economic growth is dependent on tapping into that market, he said.
Liu said the government should also improve the environment for small and medium-sized enterprises.
"SMEs provide the most jobs for rural people and in turn increase their incomes," he said.