Transparency key to R&D
By Lin Shujuan (China Daily)
Updated: 2008-03-14 07:15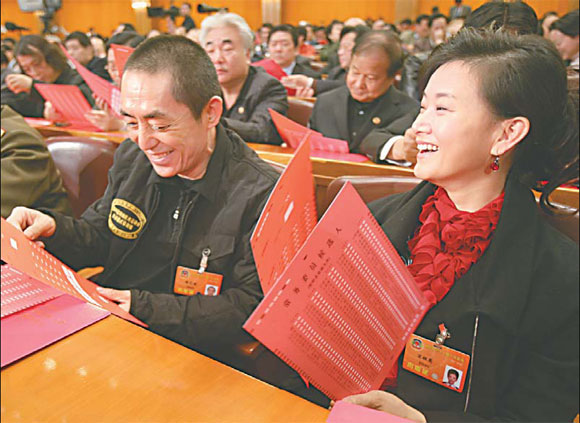 Singer Song Zuying and movie director Zhang Yimou check the ballots at the CPPCC meeting yesterday. Lu Zhongqiu
Transparency and a tolerance for failure will provide an environment of academic integrity and creativity for Chinese scientists, Science and Technology Minister Wan Gang said yesterday at the NPC session.
The government has been increasing funding for research and development over the past few years, especially since January 2006, when President Hu Jintao outlined the major strategic tasks to be undertaken to create an innovation-oriented country. According to the 11th Five-Year Plan (2006-10), 2 percent of the country's gross domestic product will go toward research and development by 2010, which will be a record for investment in scientific research.
China spent 366 billion yuan ($51.6 billion) last year, or 1.49 percent of GDP, on research and development.
That was up from 89.6 billion yuan, or 0.9 percent of the GDP figure for 2000. Those figures are expected to grow this year.
Both the scientific community and the general public have expressed concern over how best to ensure the money is used to support scientific innovation and not squandered on fraud.
Wan said the Ministry of Science and Technology, as the top authority in charge of overseeing the allocation of research funds, has adopted a transparent assessment and management process to ensure academic integrity.
The minister said his ministry had created an online application system for State R&D projects to save time and money and, more importantly, to ensure open competition. Meanwhile, the ministry is also building databases of candidate researchers and expert panels and their credit histories.
"Keeping judges' names secret until the last minute prevents cheating and other misconduct during the decision-making process," Wan said. "We believe that sunshine certainly prevents bacteria from taking root."
He said that in addition to cracking down on fraudsters, creating an environment that is tolerant of scientific failure will help reduce the temptation to lie and cheat.
"Scientific and technological innovation is a high-risk business. There is always a mixture of success and failure, and it may take many failures to produce one success," Wan said.
(China Daily 03/14/2008 page5)