Advisory body elects leadership
By Xie Chuanjiao and Wang Shanshan (China Daily)
Updated: 2008-03-14 07:12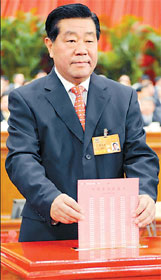 Jia Qinglin casts his ballot at a plenary meeting of the 11th National Committee of the Chinese People's Political Consultative Conference in Beijing yesterday. He was re-elected chairman of the CPPCC National Committee. Xinhua
The top political advisory body yesterday elected a new chairman, vice-chairpersons and standing committee members representing a wide social strata.
Jia Qinglin was re-elected chairman at the first session of the 11th Chinese People's Political Consultative Conference (CPPCC) National Committee which ends today. Also elected were 25 vice-chairpersons, a secretary-general and 298 standing committee members.
Wang Gang, a member of the Political Bureau of the Communist Party of China (CPC) Central Committee; Li Jinhua, auditor-general of the National Audit Office; Sun Jiazheng, minister of culture; and Deng Pufang, president of the China Disabled Persons' Federation, were among the 13 new vice-chairpersons.
CPPCC vice-chairpersons hold a rank equivalent to vice-premiers, and the standing committee members consist of a number of former State ministers and governors as well as representatives of all the 34 member groups.
The CPPCC consists of representatives of the CPC and non-Communist parties, those without party affiliation, and representatives of people's organizations, ethnic minorities and various social strata.
It also has representation of compatriots in Hong Kong, Macao and Taiwan as well as returned overseas Chinese.
Each CPPCC administration serves a five-year term.
"The CPPCC National Committee will play a more important role in strengthening socialist democracy," Li Jinhua told China Daily yesterday.

Li has become a national icon for targeting irregular spending by government departments.
He said he would take some time to ponder and research on how to efficiently utilize his decades of auditing experience in his new position in the CPPCC National Committee.
Among the newly-elected vice-chairpersons are those with international experience such as Wang Zhizhen, vice-chairwoman of the Jiu San Society, and Li Wuwei, vice-chairman of the Central Committee of the Revolutionary Committee of the Chinese Kuomintang.
"I was lucky because I caught the first tide of students going abroad after the country began its reform. My horizon widened as I came to understand other countries' cultures, traditions, spirit and politics," Wang, who went to Germany as a visiting scholar in 1979, said earlier.
She is a biologist and academician at the Chinese Academy of Sciences. She was also a visiting scientist at the United States Food and Drug Administration, the US National Institutes of Health and other global institutions.
Li used to work as a factory worker before being enrolled as a postgraduate in Shanghai in 1979. He went abroad in 1988 as a visiting scholar at the University of Missouri in the US.
Similarly, Wan Gang, another new vice-chairman, studied for 15 years in Germany, where he earned a PhD and returned to China in 2001. He was appointed minister of science and technology in April and elected chairman of the China Zhi Gong Party in December last year.
(China Daily 03/14/2008 page1)