Lenovo role model for global success
By Wang Xu (China Daily)
Updated: 2008-03-13 07:20
Over the years, many Chinese companies have pursued high-profile mergers and acquisitions in a bid to go multinational. Few have succeeded.
Lenovo Corp Ltd, however, is one that did. Now the world's fourth-largest PC maker, it has become a role model for companies across China.
Feng Jun, CEO of Beijing Huaqi Information Digital Technology Co Ltd, which manufactures mp3 players and digital cameras, said: "For Chinese companies, mergers and acquisitions are the most difficult way to expand overseas, given our lack of international talent, experience and the language barrier.
"But Lenovo somehow beat the odds, and that was a remarkable achievement."
As a newly elected CPPCC member, Yang Yuanqing, Lenovo's 44-year-old CEO and chairman, is happy to share the company's hard-learned overseas lessons at the ongoing session in Beijing. And his first proposal as a political advisor is on how the government can help domestic firms tap into overseas markets.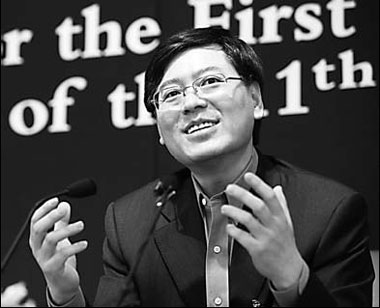 Yang Yuanqing, a CPPCC National Committee member and chairman of Lenovo, talks to reporters on Tuesday in Beijing. Huo Yan
"I hope it will help more Chinese companies achieve success abroad," Yang said.
In 2004, the $3-billion Lenovo acquired the personal computer division of IBM, which was three times its size and had operations in more than 100 countries and regions.
Against all the odds, Yang and his team succeeded in integrating the operations of the two firms and developed Lenovo into a recognized brand in 166 countries.
"We have retained almost all of the former IBM staff, including the marketing, sales and research and development teams," Yang said.
"Our research centers in the United States, Japan and here in China have helped us gain an edge in efficiency and technology."
The research centers Lenovo inherited have enabled it to roll out products that appeal to global consumers on more than just price.
A new laptop, which Lenovo plans to introduce this month, has already attracted a lot of attention from overseas media and experts, Yang said. In the past, that would have been impossible for a Chinese brand.
"Going forward, we will focus on emerging markets such as India, Brazil, the Middle East and Eastern Europe," Yang said.
"We have a good record of being able to run much faster than our competitors in these markets."
One of the facts Yang likes to cite is the company's performance in India. Since its foray into the South Asia country in 2005, Lenovo has risen to become the market's second-largest PC brand by market share.
But the company is also facing competition from home, as China has evolved into a manufacturing powerhouse for electronics.
Last year, the company lost out to Acer on a bid for Europe's third-largest PC-maker Packard Bell. The Taiwan firm overtook Lenovo as the world's third-largest PC-maker in the fourth quarter of last year.
Despite the setbacks, Yang thinks such competition is a good thing.
(China Daily 03/13/2008 page6)