Administration will 'integrate' transport
By Lu Haoting and Diao Ying (China Daily)
Updated: 2008-03-13 07:20
Most travelers around the country know the drill: a costly, long journey by cab from downtown to the airport.
But officials expect this kink in public transportation to be ironed out, with Tuesday's announcement of a super Ministry of Transport.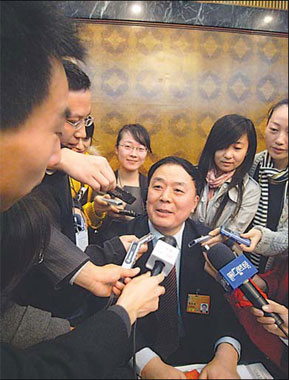 Li Jiaxiang, acting director of the CAAC, is interviewed by media yesterday in Beijing. Wang Xu
The new ministry will see a consolidation of the functions of different government departments regulating aviation, communications and urban public transportation.
"Airports should never be isolated from city planning. When a new airport is planned, the public transport system connecting downtown and the airport should also be designed. I believe such integrated service and regulation would be a major duty of the new ministry," Li Jiaxiang, acting director of the General Administration of Civil Aviation of China (CAAC), said yesterday.
"Transportation should be a multi-dimensional system," Li, also a CPPCC member, said.
The ministry will integrate the CAAC, the Ministry of Communications and the Ministry of Construction's functions of urban public transportation management.
The State Post Bureau will also be merged into the new ministry. The plan, unveiled on Tuesday, has been presented to lawmakers for debate.
Li said the reshuffle would not result in jobs being cut at the CAAC. A State bureau of civil aviation will be formed under the Ministry of Transport, due to the peculiarity of the civil aviation industry.
"It (the bureau of civil aviation) will remain an individual operating agency under the new ministry," a source with CAAC said on condition of anonymity.
Some specific departments of the CAAC, such as the aircraft airworthiness certification and flight standard departments, are expected to remain, while departments performing general functions, such as the administrative office and human resources department, are likely to be merged, the source said.
"It is similar to the relationship between the United States Department of Transportation (DOT) and the Federal Aviation Administration (FAA)," the source said.
The FAA is an agency under the DOT, with the authority to regulate and oversee the US aviation industry.
Analysts said the reshuffle takes a significant step in government restructuring by streamlining administrative resources and cutting costs.
"Currently, China's logistics and transportation system is separately regulated by different government bodies. That has resulted in high costs, a waste of resources and low efficiency," Li Lei, an aviation analyst with CITICS China Securities, said.
"By integrating their functions, the new ministry can increase efficiency in the overall planning and management of transportation infrastructure," Li said.
He said effective communication and coordination within the ministry would be key to fulfilling its responsibility.