Tomorrow is a highway broad and fair
By Hu Yinan and Wu Yong (China Daily)
Updated: 2008-03-13 07:21
Being laid off can a break a person. But Dong Yundan is not one of them. She was neither despaired nor helpless after losing her job in 1999. On the contrary, she thinks it came as a boon.
After losing her accountant's job in a food bureau in Shenyang, capital of Liaoning province, Dong began concentrating on her work as a housewife. She and her husband had purchased a 160-sq-m apartment just a few months earlier. But after a few months of cleaning and maintaining, she realized how tedious the work was. It even killed her fascination for a big house. But it gave the then 29-year-old an idea, an idea that she turned into a big success story.
A year later, the business baccalaureate launched Guanpoer, a home servicing firm, hiring mostly laid-off woman workers, the physically challenged, college graduates and former military personnel. The idea was "to set up a responsible company that didn't only provide good service to customers, but also helped its staff gain back their lost confidence".
Dong sits comfortably in her office in the Shenyang Software Mansion today after having created a life for herself that is totally different from most of the others rendered jobless by the food distribution system reforms in the country. Her success can be gauged from the fact that Guanpoer has about 2,000 contract workers in Shenyang alone, and most of them are laid-off woman workers. Their number across the country is in tens of thousands, and they operate through 70 offices. The workers are hired basically to clean homes and cook. They can also look after children.
Her social concerns have also prompted her to start a school in Shenyang, which offers free professional training to laid-off workers. No wonder Dong Yundan's is a household name in Shenyang today.
Dong's individual effort preceded a five-year nationwide drive to generate employment. It conforms to last week's Government Work Report of Premier Wen Jiabao that made "encouraging and training business start-ups, strengthening job training, encouraging people to find jobs on their own, and supporting the establishment of small enterprises" high priorities. A proactive employment policy, focusing on those rendered jobless in the restructuring of the State-owned enterprises (SOEs), was implemented in September 2002, the early days of President Hu Jintao's administration.
People throng a job fair held in Tianjin late last month. More than 3,000 companies and 40,000 job seekers from the Bohai Rim area, which includes Tianjin, Beijing, and Shandong, Jilin and Hebei provinces, participated in the fair. Zhao Jianwei
The government has achieved a lot on this front, creating more jobs in public service, and raising the number of new urban employees from 8.4 million in 2002 to 12.04 million in 2007. Overall, about 20 million people laid off from SOEs have found new jobs. This has almost solved the decade-long problem of laid-off SOE workers.
The work report Wen delivered at the annual session of the ongoing National People's Congress said the government granted 66.6 billion yuan ($9.4 billion) in subsidies in the past half decade to support employment programs. More than 10 million urban and 8 million rural residents are employed in the non-agricultural sector every year, resulting in a significant drop in the figure of the jobless. Just above 4 percent of the country's working age population was jobless last year. The jobless rate, actually, has been falling continuously since 2003. In Dong's Liaoning province, for instance, the figure was down from 6.7 percent five years ago to 4.4 percent last year. And Ministry of Labor and Social Security data show at least one member of the more than 95 percent former "zero employment" families has found a job.
But despite the remarkable progress, Labor Minister Tian Chengping warns the employment situation is still "very severe". About 20 million new laborers need jobs every year, but only about 12 million of them can be employed between now and the foreseeable future. Add to this the 8 million people (according to Tian) who migrate from rural areas to cities every year, automation in workplaces, the global economic slowdown, a record 5.59 million people graduating from China's colleges this year, the temporary nature of all work related to the Olympic Games and the government's tight monetary policy and we could have a real problem on hand.
No wonder Premier Wen said: "Providing adequate employment opportunities in China, a country with the largest population in the world, is a daunting task." It's this challenge that makes the Employment Promotion Law, which came into effect on Jan 1, so important. But unfortunately, it has received far less media attention than the one on labor contract, which too came into effect the same day. The new employment law is the country's first legal move against job discrimination, which is still widespread in many areas in terms of gender, age and other factors.
Prominent writer and Chinese People's Political Consultative Conference (CPPCC) National Committee member Zhang Kangkang, says women face discrimination in many jobs, and calls for more awareness on the issue. The law is the most direct response to her concern. But the tragedy is that it can only help eradicate prejudice and provide a level playing field for everyone when what is needed is a real change in the way people think. Giving up outdated notions, after all, needs social rather than legal awareness.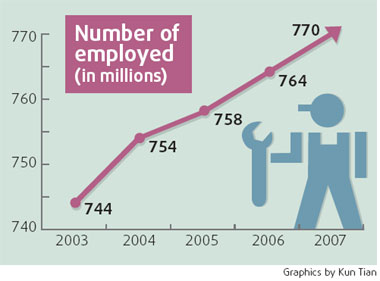 Another problem that has started plaguing the country, and the problem can only become bigger, is the lack of technicians, especially senior and professional ones. With universities admitting more and more students, teenagers are less inclined to eke out a living in the industrial sector. As model car factory worker and NPC deputy Wang Hongjun puts it: "Even I don't want my child to be a technician. So why shouldn't there be a shortage of technicians? Plus, more often than not, the pay, benefits and treatment a senior technician gets are far less than that of a general administrative staff."
To tackle such problems, the government has readjusted this year's target rate for registered urban unemployed to 4.5 percent. But there's more to the figure than the obvious pressure on the job market. In fact, this year's target - bottom-line expectation - is lower than the government's projected annual figure of 4.6 percent (for the past five years). And the labor ministry and governments at all levels have to strive really hard to keep the rate at that level.
The central government has vowed to create 15 million new jobs each year between now and 2020, and reduce the unemployment rate to below 4 percent in cities and towns. The goal will be achieved through a variety of measures, including improvement in the aid system for job seekers - especially the physically and mentally challenged - creation of a permanent mechanism to help members of zero-employment families find jobs, effective enforcement of the new laws and, above all, steady economic development.
In a way, Guanpoer reflects the situation at the national level. As the song goes, Tomorrow is a highway broad and fair, but much has to be done for us to travel there.