Director calls for diversity
By Zhao Xu (China Daily)
Updated: 2008-03-12 07:18
He is known for making mainstream movies that sell well, but director Yin Li yesterday called for the government and public to adopt a more open attitude towards the Chinese movie industry for it to develop.
Yin, 51, said the movie industry lacked diversity. For it to improve, those in it should be given more latitude.
"While a movie is often expected to be educational, entertaining and inspirational, it cannot possibly assume all these roles," he said.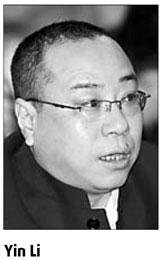 "As far as I'm concerned, a movie is ultimately a work of art. And in critiquing it, we should adopt the same standard we do in art criticism - being fair and liberal."
Yin, one of a handful of film directors who have been selected as CPPCC members, was speaking to journalists during the intermission of the meeting's group discussion.
The director found himself unfazed by the presence of fellow celebrity director-delegates Feng Xiaogang and Zhang Yimou, thanks to his two major directorial efforts - Zhang Side, based on the life of a model soldier in the revolutionary era, and more recently The Knot, a movie about love that spans several decades.
Zhang Side won Yin the coveted One Hundred Flowers Award, while The Knot was hailed for its portrayal of pure, uncontaminated love against the backdrop of a tumultuous era.
Yin, however, has been wary of any label - mainstream or independent. His role as a CPPCC member gives him greater opportunity to advocate diversity in filmmaking.
The director said there have been cases where a completed movie has been shelved, indefinitely or for years, because of a disapproving voice by a single official.
"A movie is bound to have a topic. It could deal with or touch upon a number of issues like history, religion, foreign affairs, or sport," Yin said.
"To subject it to the approval of relevant government departments or organizations would make the movie very vulnerable."
"Too many strings would hamper the development of the movie industry."
In this respect, Yin also appealed to the public to be more "tolerant."
"In the Internet age, the public can make or break a movie," he said.
"On certain occasions, voices from some members of the public, amplified by the media and the Internet, have greatly influenced decision-making from the top."
While thanking the public for their unwavering support for domestic movies over the past two decades, the director believes they can do more to help create a more wholesome environment for filmmaking and artistic experimentation.
"The open-mindedness of the public is crucial to us. To judge a movie from an ideological or purely personal perspective unfair."
(China Daily 03/12/2008 page6)