Hunan shaken, but not stirred
By Zhao Huanxin (China Daily)
Updated: 2008-03-12 07:18
Despite coming from a region that was badly hit by snowstorms earlier this year, Hunan Governor Zhou Qiang was all smiles on Tuesday, suggesting that while the province had been beaten, it was far from out.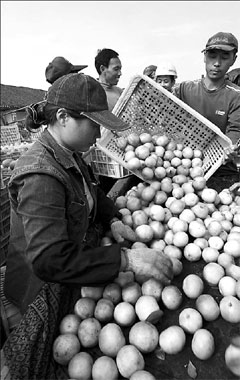 Farmers in Shimen, Hunan, use a step by step process of picking, washing, waxing, classifying, and packing oranges. Since adopting modern production methods, growers have seen their incomes from oranges double. [File photo]
"We've suffered tremendous losses, but we won't lose ground in terms of social and economic growth this year," Zhou said in Beijing, while attending the annual NPC session.
"We have the confidence and the resources to move on."
The collective heroism demonstrated by the people in fighting the calamity showed there was a real wealth among Hunan residents that can be drawn on to achieve even greater things in the future, he said during a chat session at the China Daily website.
From Jan 12, large swathes of Hunan were hit by snow, rain and freezing temperatures for 24 days, which crippled crops, paralyzed transport, cut power supplies and cost the province some 98 billion yuan ($13.8 billion), Zhou said.
"Although six people died repairing the power grid, nobody died from cold or hunger, which was a miracle," Zhou said.
"Not only did the disaster fail to damage our spirit, it also failed to erode our economic foundation."
Hunan has a population of 67.8 million and ranks 12th in the country in economic terms. Its gross domestic product surged almost 14 percent last year to 914.5 billion yuan.
Based on what he called "scientific assessment and analysis", Hunan has decided there will be no change to the economic parameters it set before the natural disaster.
For example, the province, known as the granary of Central China, will ensure its grain output this year will be at least as high as last year, at 29 million tons, due to efforts to ensure there is no reduction in the amount of cropland and through the use of new agricultural technologies.
"We have a world-brand name in Yuan Longping, the father of hybrid rice, and we will maximize the area used to grow his hybrid rice strains," Zhou said.
The central authorities have earmarked at least 1 billion yuan for Hunan's relief work, and the province can expect more financial and policy support in industrial and agricultural production, he said.
Based on lessons learned from the 2003 SARS outbreak and the recent snowstorms, Hunan will stick to a "scientific outlook" on development, and pursue balanced growth with equal importance given to the economy and the environment, he said.
For example, three cities - Changsha, Zhuzhou and Xiangtan - have been chosen by the central government as an experimental zone for energy-saving and environmentally friendly programs.
In this zone, which had less than 20 percent of the province's population but contributed one-third of its wealth, Hunan will give priority to foreign investment in projects that consume less energy and pose no environment threat.
These will include information technology, aviation and aerospace, new materials, bio-medicine and food processing projects.
"Hunan is doing well in developing landing gears for planes, and with the launch of the country's large plane program, it will hopefully land some contracts," he said.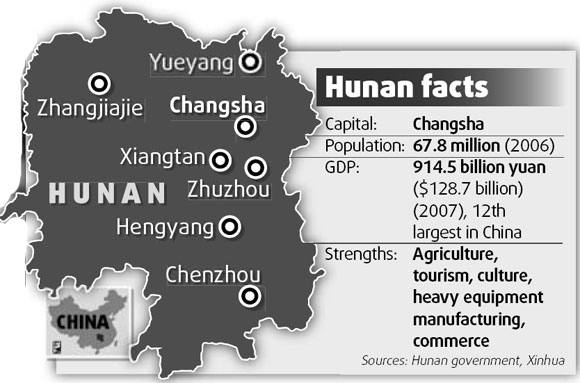 (China Daily 03/12/2008 page6)