Performance figures 'coming soon'
By Fu Jing (China Daily)
Updated: 2008-03-12 07:46
The performance of major companies and provincial governments last year against their environmental targets will be made public very soon, Xie Zhenhua, vice-minister of the National Development and Reform Commission (NDRC), said Tuesday.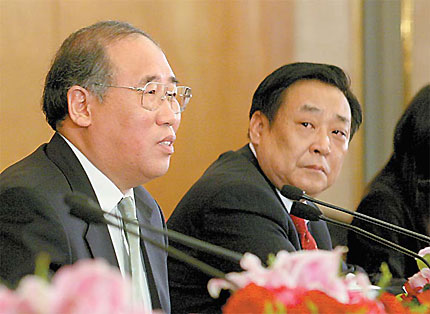 Xie Zhenhua (L), vice-minister of the National Development and Reform Commission, and Zhang Lijun, vice-minister of the State Environmental Protection Administration (SEPA), at a press conference in Beijing, March 11, 2008. [China Daily]
Details of how companies performed will be made known this month, while reports on the performance of provincial governments will follow in May or June, he said.
"Officials and businesses leaders will be assessed in line with the accountability system announced in November," Xie told a press conference on the sidelines of the NPC session.
Late last year, the government announced a new system for measuring performance, which ties career advancement to success in achieving environmental targets.
Under the new rules, if company bosses or government officials fail to meet half the national goal of reducing energy consumption per unit of GDP by 4 percent every year, they will lose the opportunity to be promoted.
Also, the central government will not approve any major new projects in provinces that fail to meet their targets, until their performance improves.
The government has set a target to reduce energy consumption per unit of GDP by 20 percent by 2010. But the fall in 2006 was just 1.23 percent, far below the 4 percent annual target.
However, the situation improved last year, with the figure reaching 3.27 percent, as announced by Premier Wen Jiabao last week in his work report to the legislative body.
The central government has already signed contracts with provincial governments to implement the green accountability system and governors have agreed to accept punishment if they fail.
In addition, 1,000 energy-intensive companies have signed similar contracts with their local governments.
Last year, China's legislative body voted for the Energy Efficiency Law, which says the ability of local governments and their chief officials to meet energy-efficiency goals should be a key measure when higher-level governments examine their performance.
Hu Guangbao, deputy director of the NPC's Law Committee, said the law will create a better legal environment for achieving sustainable development in China.
Xie said China still faces many challenges when it comes to energy conservation and it will take tangible measures to meet them.
The country will continue eliminating outdated production facilities, including small thermal power generating units, cement facilities, steel and iron plants, Xie said.
Zhang Lijun, vice-minister of the State Environmental Protection Administration (SEPA), said the government will make full use of tax, fiscal and financial policies to push forward energy-saving and pollution-cutting goals.
The country's top five banks offered loans of more than 100 billion yuan ($14 billion) last year to support companies' environmental plans, while the government is levying a full consumption tax on refined fuel oil and three other oil products retroactively from January.
Xie said the government will continue to require the country's 1,000 largest firms in iron and steel, petrochemicals and other sectors to meet global energy efficiency requirements and save 100 million tons of coal by 2010.
The government has also pledged that within the next two years, wastewater from all of the country's 36 biggest cities will be purified before being discharged.
"We need to mobilize companies and the general public to join the green campaign," Xie said.