Model teacher shares her love, insight
By Zhu Zhe (China Daily)
Updated: 2008-03-10 06:50
Lu Xinping, a new deputy to the National People's Congress (NPC), was visibly nervous when facing the sea of reporters.
Her students saw her distress on TV screens, and through text messages of encouragement, came to her rescue.
"UFO, how come you're so active in class but can't string a sentence together on TV? Take it easy, and we believe you can be a good NPC deputy!"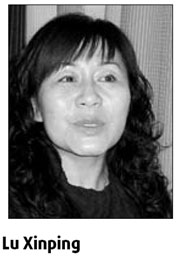 As a 43-year-old English teacher at the Tanglai Hui Middle School in Yinchuan, Ningxia Hui autonomous region, Lu teaches 144 junior-one students, who affectionately call her "UFO".
"They say I'm Ugly, Fat and Old," she said, laughing. "I really don't mind. I know they're kidding. My students love me, and I love all of them too."
Elected as a deputy to the 11th NPC in January, Lu is the only deputy from Ningxia who comes from the grass-roots level.
The others are officials or former officials at different levels. She has also been named an Olympic torchbearer in Yinchuan, reflecting her popularity in the local community.
"Actually, I don't really like these titles," she said in an interview.
"All I want is to be a good teacher."
That she is.
According to authorities, her students are usually better in English than those in other classes of the same grade, and they are usually more optimistic and easygoing.
Lu said she did not practice any special teaching technique, but always tried to explain the contents of a textbook in words or gestures children could understand.
For example, Lu said, she dances in class when teaching the English sentence "I love dancing", and sings "Country roads, take me home..." when she teaches the word "country".
Lu really cares about her students. She prepares a birthday gift for everyone, and she asks all the class to sing Happy Birthday.
She gives students from poor families lunch money, but in a discreet way, so as not to embarrass them.
If she thinks she has criticized any student too harshly, she apologizes in front of the whole class.
She has also sponsored 10 girls in the remote mountainous area of southern Ningxia, giving each girl 200 yuan a year.
Her loving nature has its rewards. Last October, her new students gave her a surprise birthday party in the classroom, only two months after she had become their teacher.
Her old students, who are now working, often stop by the school to pay her a visit.
After being elected a NPC deputy, more than 20 students wrote on the school's bulletin board, saying they're so proud of having such a great teacher.
Lu said her students also helped her better perform her duty as an NPC deputy and offered advice.
"A student just called me and said he wants our class to be smaller," she said. "I'm going to submit a suggestion on that."
Lu's class currently has 72 students, too big for any lesson , she says.
Lu said it's a common phenomenon for classes to be overflowing with students in Yinchuan's middle schools.
"We need more teachers and more education resources," she said.
"Premier Wen Jiabao said in this government report that we need not only education, but good education."
Lu said Ningxia also needed more senior middle schools and vocational schools. "Nine years of compulsory education is not enough for these children," she said.
But Lu admitted that to be a qualified NPC deputy, she still has much to learn. "But I'll learn from what I'm familiar with," she said.
"If I can exactly tell what millions of teachers and students in Ningxia want, then I think I've performed my duty."