Social security system
(China Daily)
Updated: 2008-03-10 06:49
From what our ministers of labor and social security and civil affairs talked about at yesterday's press conference, we get a clear message that a basic network has been established to provide aid for those in need and help for the unemployed to get jobs, but uphill battles are still ahead to optimize the established system.
What underlines the situation is rapid economic development and higher expectations residents have of the government.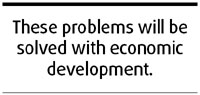 Economic boom in the past three decades has not only considerably improved the living standards of the people, but also taught them how to safeguard the rights they are entitled to and how to voice their concerns about public and State affairs.
Ten or 20 years ago, or even three decades ago, when economic reform and opening up was initiated, most Chinese worked hard just to make ends meet and the degree of social security for urban and rural residents was much lower than today.
We could hardly have imagined that elderly rural villagers would have pensions today, and the urban jobless would be given basic living allowances.
But it is human nature to look forward to a better life, and it is the obligation of the government to provide a better social security system for the people.
We Chinese have a saying that more hands make it easier to get work done, but fewer mouths make it easier to get a meal cooked.
This is true with the situation we are facing now: our huge population of 1.3 billion is good for economic development but at the same time a burden for an effective social security system.
For example, more than 10 million jobs created annually in recent years still hardly meet the demands of urban and rural job seekers, according to our labor minister.
The same is true of the newly established social insurance system: firms are required to pay insurance for workers, but when they quit their jobs and find new employment in other cities, the transfer of their insurance becomes a problem - the insurance is only locally administered without a national or even a provincial unified network.
But these are just growing pains that will be addressed with economic development and increasingly optimized government services.
(China Daily 03/10/2008 page4)