Reshuffles aim to combat nepotism
By Jiao Xiaoyang (China Daily)
Updated: 2008-03-08 09:25
The Communist Party of China (CPC) will introduce more frequent reshuffles of disciplinary officials to avoid nepotism, a senior Party watchdog said on Friday.
He Yong, deputy secretary of the CPC's Central Discipline Inspection Commission (CDIC), said: "The exchange (of supervisory officials) from time to time is good because those who have been in the same job for a long time build up too many connections, which can be detrimental to their work."
Related readings:


 CPC leadership to discuss personnel, govt reshuffles


 Local leadership gets younger with reshuffles

 Clean-fingered reshuffles urged for local governments
Speaking on the sidelines of the NPC session, He said: "Reshuffles are an important part of the supervisory system and in recent years, we have been paying more attention to that area."
In recent years, the Party has made several exchanges of the heads of provincial disciplinary bodies. Most notably, at the end of 2006, the heads of Party watchdogs in the country's four municipalities - Beijing, Shanghai, Tianjin and Chongqing - were replaced with officals from Beijing.
"It was a good start, and future exchanges will help strengthen the system still further," He said.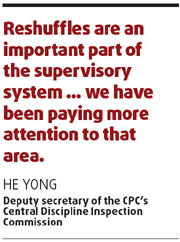 Heads of disciplinary bodies will not be allowed to work for any longer than 10 years in one place, he said.
But he ruled out the possibility of all disciplinary bodies being integrated within a "vertical" system under the CIDC.
"That cannot happen now or even in the future." he said.
"China is too big. We have more than 73 million Party members, so it is impossible for the CIDC to supervise everyone.
"It's not like in a small city-state where an anti-corruption commission can handle everything," he said.
Local Party watchdogs operate on a "dual track", He said. Although they are elected by local Party committees, they still have to follow guidelines set by watchdogs at higher levels.
Asked whether the Party will introduce more democracy, the senior official said: "Definitely, yes.
"Greater democracy within the Party will promote democracy among the people, and this is an established Party line."