Tibet separatists doomed to fail: Party chief
By Wu Jiao (China Daily)
Updated: 2008-03-08 08:51
Attempts at "Tibet independence" are doomed to fail, Tibetan Party Secretary Zhang Qingli said on Friday.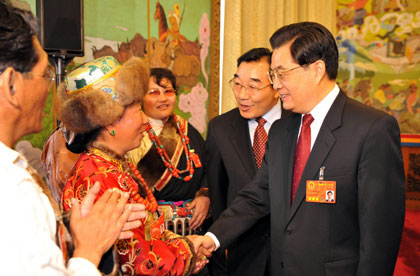 President Hu Jintao greets a Tibetan deputy during a panel discussion of the annual NPC session Thursday in Beijing. [Xinhua]
The Dalai Lama has never stopped plotting to separate Tibet from China since he betrayed the country, Zhang, secretary of the Tibet Autonomous Region Committee of the Communist Party of China, said on the sidelines of the ongoing session of the National People's Congress, the top legislature.
Related readings:


 Hu stresses stability, harmony in Tibet


 Hu meets HK, Macao and Tibet delegations


 Qinghai-Tibet railway extensions necessary


 China opposes Dalai Lama's splittist motive


 'Democracy', deceptive garment of Dalai Lama
"I have never heard that the Dalai Lama has refrained from wanting to split Tibet from China," Zhang told reporters after a panel discussion by the Tibetan delegation.
"We will never tolerate those who are set on such activities."
Qiangba Puncog, chairman of the government of the Tibet autonomous region, expressed his confidence in Tibet's security during the forthcoming Olympic Games.
"All Chinese hope for a successful Olympics," Zhang said.
"Anyone who wants to sabotage the Games will get nowhere."
Qiangba Puncog, the top government official in Tibet, also warned that the activities of the Dalai Lama clique were the "main factors of instability in Tibet".
"They will not succeed. We are fully prepared and have full confidence.
"We will definitely ensure the Olympics and Olympic-related events in Tibet proceed smoothly," he said.
The Tibet leg of the Olympic torch relay is due to scale Mount Qomolangma.
President Hu Jintao on Thursday stressed stability and social harmony in the Tibet autonomous region while joining a panel discussion with Tibetan legislators.
"Stability in Tibet concerns the stability of the country, and safety in Tibet concerns the safety of the country," Hu told the delegation.