Launch center will be built in 5 years
By Hu Yinan (China Daily)
Updated: 2008-03-07 09:06
Construction of the latest Chinese satellite launch center on Hainan Island is scheduled to begin this year and will be completed in five years, the province's top official said in Beijing yesterday.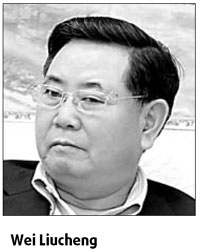 "The government and people of Hainan are delighted that the country decided to place the new space launch pad here," Wei Liucheng, Party secretary of the Hainan provincial committee, told reporters during an NPC session.
Despite widespread reports, Wei did not confirm whether the center will be used for the Long March 5 launch vehicle, China's next-generation vehicle for heavyweight satellites and space stations, which will be ready by 2013.
The planned 20-sq-km center is located near Wenchang, which boasts the island's longest coastline of up to 207 km.
The new base will include a command center, a rocket launch site, rocket assembly plant and 7-billion-yuan ($985 million) space theme park. A spectator's platform that will enable 300,000 viewers to watch nearby satellite launches is also being planned for.
The center was approved by the State Council and the Central Military Commission last September and has since drawn about 20 hotel, real estate and tourism projects with a total projected investment of 25 billion yuan.
Wenchang, an area known for its many tourist draws, including 40 bays, has treated the space launch center as its most precious asset and envisions itself as the leader of tourism in the tropical resort province.
A provincial east circular railway and several highways will also be completed after 2010 to help it in that quest.
"With the settlement of this satellite launch base, a new tide of development has come to us," Wenchang mayor Yan Zheng said.
Many seaside condos and suites in Wenchang, to be built soon, are already sold out, Yan's deputy Lin Shiying said.
The county-level city of 560,000 residents is home to such female figures as Soong Ching-ling (Madame Sun Yat-sen), Soong Mei-ling (Madame Chiang Kai-shek) and Xie Fei (former wife of Chairman Liu Shaoqi). Chairman of the Thai Congress Uthai Pimchaichon is among the many recent Southeast Asian statesmen whose roots are in this city.
Previously, Wenchang former Party chief Xie Mingzhong announced that the launch center would be completed in 2012 and put into operation the following year. But Party disciplinary officials later suspected him of bribery and corruption, and he was forwarded to judicial departments in January.
China has three existing satellite launch centers in Gansu, Shanxi and Sichuan.