On track for energy targets, Premier Wen says
By Li Jing and Fu Jing (China Daily)
Updated: 2008-03-06 07:22
Never has China developed so fast or used so little energy to do so, industry observers said yesterday in response to Premier Wen Jiabao's government work report to the NPC.
But much more will need to be done this year to sustain the progress made on energy saving and environmental protection, they said.
In his report delivered to the nation's lawmakers, Wen said China's energy intensity index for last year was down 3.27 percent on its 2005 level.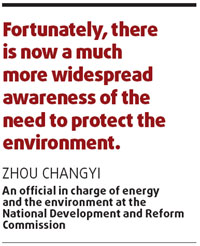 By comparison, the index, which shows how much energy is used in the production of every 10,000 yuan (one unit) of gross domestic product (GDP), fell just 1.23 percent in 2006.
The index showed that 1.1663 TCE (tons of coal equivalent) were used for every unit of GDP in 2006, at a time when the economy was growing at 11.4 percent, the highest for 14 years.
Wen also said that in 2006, China saw its emissions of sulfur dioxide (SO2) fall 4.66 percent and its chemical oxygen demand (COD), a key measure of water pollution, fall 3.14 percent, from their 2005 levels.
The country's key energy and environmental goals for the 2006-10 period are to lower energy intensity by 20 percent, and emissions of pollutants, as reflected by the above two indexes, by 10 percent.
To achieve these goals, China will have to use less than 1 TCE for each unit of GDP in 2010, compared with 1.2 tons in 2005.
In 2006, the first year following the setting of the goals, China managed to lower its energy intensity by just 1.23 percent, and emissions of SO2 and COD by 1.8 percent and 1.2 percent, respectively. The poor performance caused widespread criticism and concern last year.
Confidence, however, was regained yesterday with the release of the 2007 figures, Xu Dingming, deputy director of the Office of National Energy Leading Group, said.
"The government has taken a lot of measures," he said, adding that it "will take time for all the new energy-saving projects to take full effect."
But once they do, China will meet its goals, he said.
Zhou Changyi, an official in charge of energy and the environment at the National Development and Reform Commission (NDRC), said more needed to be done.
This year will be the "most critical" for China in reaching its five-year goals for energy conservation and the control of emissions, he said.
"Fortunately, there is now a much more widespread awareness of the need to protect the environment," Zhou said.
Based on that, China can accelerate its progress and achieve better results, he said.
In his report, Wen also outlined the government's plans to continue to close down backward production facilities in the electricity, steel, cement, coal and papermaking industries, and replace them with facilities that employ advanced production techniques.
Last year, China consumed about 2.65 billion TEC, up 7.8 percent on 2006, according to the National Bureau of Statistics 2007 communique.
Progress has been made in recent years, industry observers said, by shutting down both small thermal power plants and large numbers of old and small-scale coal mines, iron and steel mills, and cement plants.
Wen said the country will continue to focus on energy conservation in key enterprises and in the construction of major projects. It will also develop more energy conservation and emission reduction technologies, as well as clean and renewable energy sources, such as wind and solar power.
In his report, the premier also discussed pollution control in major river valleys and regions, and the protection of rural drinking water.
Stricter national standards will be applied, he promised.
"We will enhance public awareness of the importance of a culture of conservation and encourage the entire nation to participate in building a resource-conserving and environmentally friendly society," Wen said.
(China Daily 03/06/2008 page5)