They echo the voice of the people
By Xie Chuanjiao (China Daily)
Updated: 2008-03-04 07:25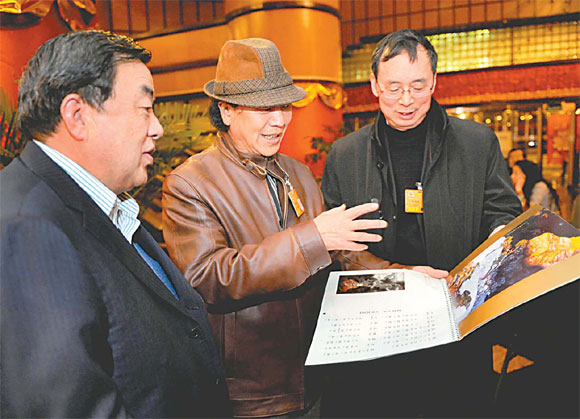 CPPCC member Nimazeren (center), from Tibet, shares with co-members Liu Zhenying (left) and Zhu Qingshi his views on how to protect and carry on traditional culture in a fast-changing world. Ma Zhancheng
Zhao Lihong is visibly excited talking about a proposal he submitted to the first session of the seventh Chinese People's Political Consultative Conference (CPPCC) 20 years ago. As a member of the CPPCC National Committee, the Shanghai-based poet suggested the three traditional Chinese festivals, Tomb-Sweeping Day (Qingming), Dragon-Boat Festival and Mid-Autumn Festival, be added to the government's list of public holidays. A little more than two months ago, the central government declared the three festivals public holidays.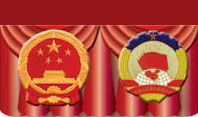 "My proposal has become a reality," he says. "I had suggested their inclusion to draw more attention to Chinese culture." Zhao submitted the same proposal from 2003 to 2006 during which time more and more CPPCC members supported it, reflecting the general people's wish.
Zhao is now the vice-chairman of Shanghai Writers' Association. He is a member of the 11th CPPCC National Committee, too, and has come to Beijing with some new proposals this time. "I have a few new proposals, and seeking support for literary magazines is one," he says.
So what is a poet doing in the country's top political advisory body? He represents a section of society, arts and culture, in the government's "think tank". The CPPCC, in fact, has members from the Communist Party of China (CPC), non-Communist parties, people without any party affiliation, people's organizations and ethnic minorities. Compatriots from the Hong Kong and Macao special administrative regions and Taiwan, overseas-returned Chinese, professionals and public figures from all walks of life and academics, too, find place in it. It also has migrant workers' representatives. In short, every strata and section of society is represented in the 11th CPPCC National Committee, which began its first annual session yesterday, and most of its members are political or social figures, experts or scholars.
With their knowledge, expertise and experience, the members serve as the key mechanism of multi-party cooperation and political consultation under the CPC's leadership. That makes the CPPCC the major manifestation of democracy.
Holding political consultations, exercising democratic supervision, and participating in the discussions and handling of State affairs are the CPPCC's main functions. Political consultations cover the major principles and policies of the central and local governments, and matters of political, economic, social and cultural importance. Democratic supervision means supervision over the implementation of the Constitution, other laws, regulations and major policies through suggestions and criticisms.
The members offer thousands of suggestions and proposals for innovative and enhanced government projects, actions and regulations. Their outstanding proposals include the scrapping of agriculture tax, protection of the rights of migrant workers and the physically challenged, as well as the government's role in generating employment. The last two recommendations have already become revised draft law.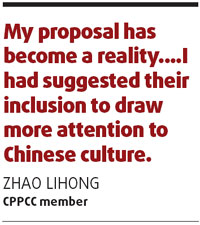 Members of the 10th CPPCC National Committee conducted field studies, too, with the messages summing up public opinion numbering about 6,600 during the five years. This was in addition to regular field reports.
Deputy director of the social and legal committee of 10th CPPCC National Committee Wang Jianlun says the members visited about 30 small cities and counties in Beijing, and Zhejiang, Hebei and Heilongjiang provinces, and the Guangxi Zhuang, Xinjiang Uygur and Inner Mongolia autonomous regions in 2006 alone to get firsthand knowledge of the condition of the poor in the countryside.
They prepared a report, suggesting the government set up a system to guarantee monetary subsistence to rural residents living below the national or local poverty line.
In July last year, the State Council, the country's cabinet, announced the setting up of such a mechanism. Actually, more than 15 million rural poor in about 25 cities, provinces and autonomous regions had already got financial aid through pilot programs by then.
Zhong Nanshan became a household name almost overnight for his courage, knowledge and skill five years ago. The medical practitioner deserves every bit of his fame because he led the nation's fight against SARS (severe acute respiratory syndrome).
Zhong was well known among the country's medical circles for his research into and treatment of respiratory diseases, but he came into public limelight during those difficult times. His work and fame got him a seat in the 10th CPPCC National Committee.
He and other members of the medical and pharmaceutical group that waged a war on SARS submitted 260 proposals on improving the food safety inspection system and speeding up food safety legislation in the five years that they served on the 10th CPPCC National Committee.
Zhong is in Beijing this time, too. But he will attend the first session of the 11th National People's Congress (NPC) as a deputy from Guangdong province.
In 2005, the 10th CPPCC subcommittee listed proposals for improving the food safety inspection system as one of its priorities. Also, it pushed for the formation of a joint research and investigation team with officials of the State Council's Legislative Affairs Office and the State Food and Drug Administration.
From August to September of that year, the team traveled from Gansu to Sichuan to Chongqing municipality. It held eight seminars, visited food processing and production plants, supermarkets, wholesale markets, catering and inspection organizations and consulted a lot of local government reports. After the tiresome, but fruitful exercise, it filed a research report on issues and solutions to the country's food inspection system.
"That report contributed greatly to the drafts of the Food Security Law referred by the NPC last December," says subcommittee vice-chairman Yang Zhenjie.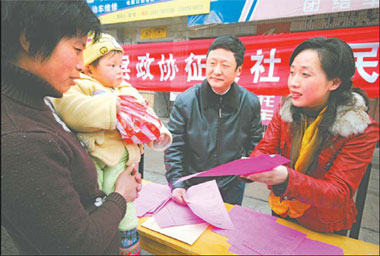 CPPCC members distribute questionnaires in Suixi, Anhui province earlier this month, soliciting views from villagers on building of roads connecting villages in the area. Views are collected this way and put up for discussion at the CPPCC meeting. Fan Weimin
Take University of International Business and Economics vice-president Hao Ruyu as another example. The 10th CPPCC National Committee member's proposals, focusing on educational reform, are gradually becoming a reality, with the government further extending free compulsory education in rural areas and spending heavily to help poor students complete their higher education.
Zhao Zhongxiang and 25 other CPPCC members form a group, which in 2005 proposed the environmental protection inspection capacity be expanded. Later, they and officials of the State Environment Protection Administration (SEPA) and the State Commission Office for Public Sector Reform prepared a research paper with instructions from senior officials, including Vice-Premier Zeng Peiyan.
The result: setting up of five environment protection and supervision centers in east, south, northeast and northwest China as SEPA's detached offices in 2005. "Their efforts actively helped build an environment inspection system," says Yang.
That no CPC or government department related to CPPCC members' suggestions or proposals can afford to take things lightly is evident from the fact that 99.1 percent of the 23,081 proposals in the past five years has been accepted, investigated or responded to.
Zhang Jing'an, director of the information office of the General Office of the CPPCC National Committee, says the Ministry of Public Security has been a model department in handling such proposals. From 2003 to 2007, the ministry received 819 proposals on issues such as crackdown on crimes, intensifying public security management, taking preventive measures, enhancing road safety management, fire prevention, as well as frontier defense and exit and entry management. The proposals on household registration reforms numbered 35 last year.
Till date, 13 provinces have canceled the dual household system that divides families into agricultural and non-agricultural households, and have eased restrictions on some rural residents to help them settle and obtain household registration in cities. The facts tell the story: just in one year (2007), about 340,000 farmer-turned-workers registered their households in cities in Jiangsu and Fujian provinces and Guangxi Zhuang autonomous region.
(China Daily 03/04/2008 page7)