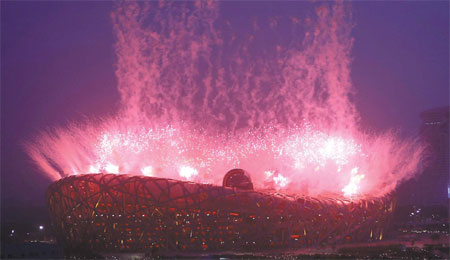 The magic master of ceremonies
You didn't have to be a professional photographer to capture great images of this pageantry. It so sparkled that it totally redeemed Zhang Yimou, the mastermind behind the ceremony, whose name had been sullied by a slew of big-budget epic movies that were box-office gold but word-of-mouth poison.
Zhang reinvented himself by forsaking his old habit of trumpeting bright colors and folk symbols and by embracing more highbrow elements of Chinese culture, such as brush painting, Confucius and Taoist mantra. It was a celebration of the brainy, as well as the showy, part of Chinese civilization.
Unfortunately, the cameramen, or the director, of the broadcaster was not up to his/her job. The telecast, as seen by all the Chinese, was so fraught with loopholes that Zhang himself gave out the NBC edition as souvenirs.
He should have been calling the shots in the control room as well.
The men with really smelly feet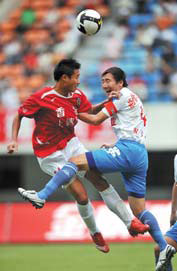 The Beijing Olympics created numerous moments of pride and joy, but the performance of China's national men's football team was not among them. It was the exception to the rule, the clown in the circus, the villain people love to hate.
As a matter of fact, there was such wide revulsion that it sparked one of the biggest fireworks of sarcasm with literally hundreds and thousands of jokes created and shared online.
One joke imitates the intro of a science program on TV: All life in the river died; residents downstream were infected with a strange disease; plants along the banks mutated in form. Was it remnants of a chemical? Was it a bio-chemical attack? Please tune in tonight for a special program "The national team dipped their feet in the river."
Who said we Chinese don't have a sense of humor?
Milk contaminates images of stars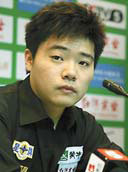 Now, if only the national soccer team's feet had something to do with it. But no, it was melamine, which sickened hundreds of thousands of babies.
A bunch of celebrity entertainers found themselves in a unique position. They had all appeared in ads for Sanlu, the company at the center of the storm. Some consumers said the entertainers had a responsibility since they received enormous amount of money for their endorsement but the entertainers cried foul. How could they have known the products they so happily touted on screen were poisonous?

Of all the people who had advertised for all the problem milk products, only Ding Junhui (pictured above left), the snooker player, promised to shell out the money he made from Mengniu for the treatment of sick babies.
If only photographers had been around when Deng Jie (right), Xue Jianing et al cried "It's not my fault!" Juxtapose the images with those of sick babies, and you'll have the truth behind celebrity endorsement: money.
Screen goddess' Singapore sling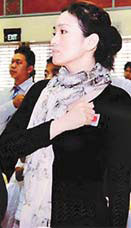 Public criticism of Gong Li (pictured left) arose not simply because of her decision to become a Singaporean citizen, but it was heightened because she was photographed during the swearing-in ceremony. Chinese netizens were not happy she had renounced her Chinese citizenship, and Singaporeans were unhappy because they thought she did it for the sake of convenience. At least some believed so.
If only she had disguised herself as Qiu Ju, the farmer's wife who relentlessly pursued justice but who did not look anything at all like the glamorous actress who portrayed her.
Poor men's fun
CCTV, the only national TV network, regularly doles out lavish shows touting all kinds of achievements, but it hardly represents the taste of ordinary people. Hence the emergence of "knock-off" shows such as the layman who produced his own version of lectures and a family who put on a snippet of the Dream of Red Mansion drama series - in their living room.
Known as "shanzhai", it is the poor man's version of an existing product, be it a cell phone or a variety show. It is crude; it does not respect intellectual property rights; it mocks authorities and role models. But people love it. Why? Because it is participatory.