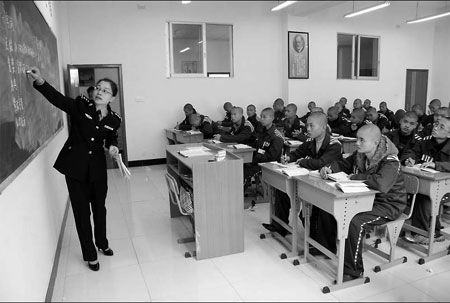 Juvenile prisoners attend class in a prison in Changsha, capital of Hunan province. [China Daily]
Juvenile crime in provinces with many migrant workers, such as Guangdong, Zhejiang and Jiangsu, has become a growing problem, as many migrant youths lack parental supervision, court officials said.
Related readings:

 Local govts urged to create jobs for migrant workers


 Migrant workers seek greener pastures


 Help migrant workers


 Hard times for migrant workers in Guangdong
The second generation of migrant workers in cities is doing similar work to the first but is not as hardworking, they said.
"Some of them dream of easy lives and pursue ways to make quick money to achieve their goals," an official with the research department of the Supreme People's Court (SPC), who refused to be named, told China Daily.
After arriving in cities without any special skills, they often commit petty crimes to make ends meet.
"This is a major reason for the increase in juvenile delinquency in these areas," he said.
Last year, 316,000 juvenile offenders were sentenced, accounting for one-third of the country's convicts. Among them, 87,500 were minors, the Supreme People's Court had said earlier.
The number of juvenile criminal offenses in Guangdong increased by 18 percent year-on-year from 2003 to 2007, the Nanfang Daily reported yesterday.
In 2007, the number of juvenile offenders in Guangdong was 18,633, or 47 percent of its total criminal population.
Guangdong has 24 million migrant workers, accounting for nearly one-fourth of its total population.
Chen Jingfang, deputy head of the No 1 criminal law court of Jiangsu High People's Court, said that last year, teenagers from outside the province committed 87 and 80 percent of the juvenile offenses in cities of Suzhou and Wuxi, respectively.
Last year, the court registered a 9 percent year-on-year increase in juvenile offenses.
"The older generation of the migrant population is fine, especially since local governments have established residential buildings for them, and even buy them insurance," Chen said.
Once settled, they bring their families. But their children often have a hard time in these new cities, and the parents do not have the time or resources to care for them. Also, they do not have access to good schools, he said.
Both court officials pointed out such conditions lead to dysfunctional family lives that are detrimental to the children's studies.
In Haishu district people's court of Ningbo, capital of Zhejiang province, 95 percent of last year's teenage criminals came from other provinces.
Zhang Zhongjian, chief of the court's juvenile tribunal, said criminals are becoming younger and have lower educational backgrounds.
Among 273 juvenile criminals randomly sampled from among last year's cases, the youngest was 13, and 266 had educational levels lower than middle school.
"Property-related crimes involving violence, such as robbery and theft, accounted for 71 percent of juvenile crimes," Zhang said.
"Crimes committed by girls are also becoming crueler and differ less from those of boys."