YALONG BAY NAVAL BASE, Hainan: A Chinese naval fleet - armed with special forces, guided missiles and helicopters - set sail on Friday for anti-piracy duty off Somalia, the first time the country has sent ships on a mission that could involve fighting beyond its territorial waters.
Decorated with colored ribbons and flowers, the three warships - two destroyers and a supply vessel from the People's Liberation Army Navy - were unmoored at the military port by crew members in white naval uniforms.
The fleet will carry about 800 crew members, including 70 soldiers from the navy's special force.
The current expedition aims to guard civilian ships from attacks by Somali pirates.
A surge in attacks at sea this year in the busy Gulf of Aden and Indian Ocean off Somalia has pushed up insurance costs, brought the Somali gangs tens of millions of dollars in ransom and led to the dispatching of foreign warships to the area.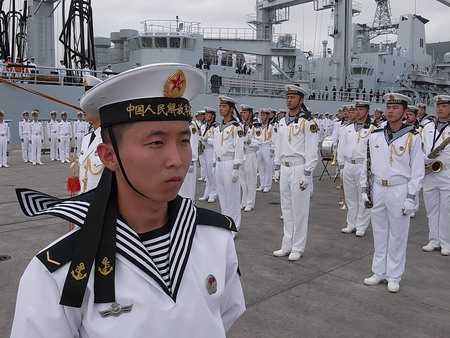 Sailors of a naval band stand in formation during a ceremony to send off a Chinese navel fleet, which departed from Sanya, Hainan province, for Somalia on December 26, 2008. [chinadaily.com.cn]