KUNMING - More than 95,000 people were affected by two earthquakes in the Yunnan Province of southwest China Friday, the provincial civil affairs administration said Saturday.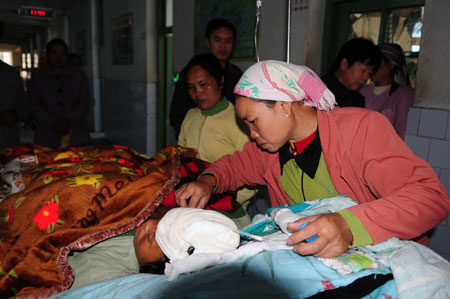 An injured villager receives medical treatment at a local hospital, Jiexiang County of Ruili City, South China's Yunnan Province, December 26, 2008. [Xinhua]   
So far, 19 people were injured, including four seriously. Another 9,675 others had to evacuate from their homes and were unable to return Saturday.
A 4.3-magnitude quake hit Yiliang county in Kunming, the provincial capital, at about 2:19 a.m. Friday. More than 1,700 people were affected and nearly 1,300 homes were damaged.
Another tremor measuring 4.9 on the Richter scale struck Ruili city on the China-Myanmar border at 4:20 a.m. Friday. About 94,000 residents were affected. The quake flattened 37 homes and caused damage to some 25,000 others.
Local governments allocated 200,000 yuan (nearly US$30,000) for quake-relief. They were distributing tents, quilts, clothes and other supplies.
Yunnan's neighboring province of Guizhou also suffered a 4.0-magnitude quake at about 8 p.m. Friday, but no casualties were reported. Damage reports are pending.