SANYA - The Chinese naval fleet set sail at 1:50 p.m. on Friday from a port here in the southernmost island province of Hainan for Somalia. The ships will take part in an escort mission against piracy.
The warships of the People's Liberation Army Navy, decorated by colored ribbons and flowers, were unmoored at the military port by crew members in white naval uniforms who saluted the crowds who saw them off.
Two destroyers, DDG-169 Wuhan and DDG-171 Haikou, and the supply ship Weishanhu from the South Sea Fleet will cruise for about 10 days to arrive in the Gulf of Aden, joining the multinational patrol in one of the world's busiest sea lanes where surging piracy endangers international shipping.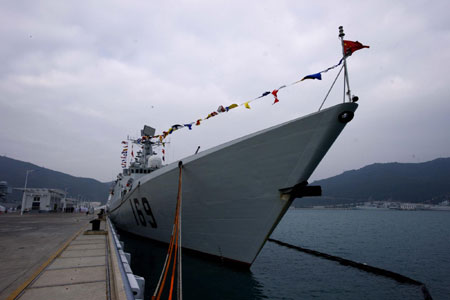 Photo taken on Dec. 25, 2008 shows the Chinese navy destroyer Wuhan in Sanya of South China's Hainan Province.  [Xinhua]
The fleet will carry about 800 crew members, including 70 soldiers from the Navy's special force. It's equipped with missiles, cannons and light weapons.
The fleet will protect Chinese vessels and crews, including those from Hong Kong, Macao and Taiwan, that seek protection when passing through the area, as well as foreign ships on request.
Related readings:


 Navy leaves for Somali waters today to tackle pirates


 Warships drill before leaving for Somali waters


 Chinese beat back Somali Pirates


 Navy to fight pirates in Somali waters
The first phase of the mission will last for three months and the Navy will send new ships to relieve the fleet at an appropriate time, depending on the situation and the UN Security Council.
It will also help ships carrying humanitarian relief for international organizations such as the UN World Food Program. The fleet will not charge escort service or protection fees to ships, whether foreign or domestic.
The fleet will be ready to receive protection appeals on January 6.
The Defense Ministry officially announced the deployment on Tuesday, saying that China will observe UN resolutions and international laws in fulfilling its obligations.
Foreign Ministry spokesman Liu Jianchao said 1,265 Chinese commercial vessels had passed through the Gulf so far this year and seven had been  attacked. One fishing ship and 18 crew members were still being held by pirates.