Gov. to help millions of laid-off migrant workers
ZHENGZHOU -- Nineteen-year-old Wang Pan used to work in an electronics factory in Dongguan City, a major export hub in Guangdong Province. Now she is jobless.
The small enterprise was on the verge of closure and cut jobs in November amid China's export slump. Wang was forced to return home to live with her parents in the Henan province, a major source of migrant labor.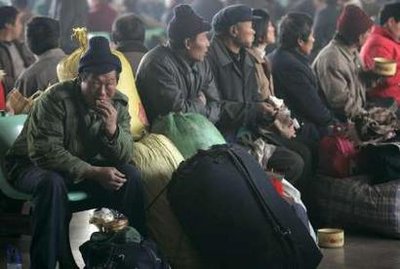 Migrant workers wait to board a train back home at the waiting room of a railway station in Taiyuan, Jiangxi province December 16, 2008. [Agencies]
"In previous years, I would not stop working until the Spring Festival in January. This year I had to come back early," Wang said while chatting with neighbors on a village road.
"I am happy to reunite with my family, but I am more worried about my job next year. It is cold and I'm bored at home."
Wang is one of the many laid-off migrant rural workers who flocked back to their rural homes as the financial crisis batters China's most industrialized provinces.
In Xinyang City, Henan Province, there are about 2.3 million migrant rural workers. Typically, the majority come home days before the nationwide holiday called the Spring Festival. This year, one month before the festival, daily passenger flow at the city's bus station was 80 percent higher than the same period last year, said Huang Guomin, manager of Xinyang Transportation Group.
"Already migration flows are reversing. In previous years, the month before Spring Festival, migrant workers carried rice, pork and daily necessities to the Pearl River Delta and Yangtze River delta, the most developed regions in China. Now this year, we are seeing people come back early from these areas," he said.