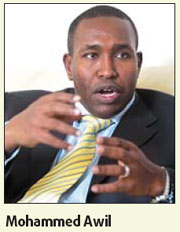 Somalia welcomes the presence of the Chinese navy to fight pirates in its waters, the ambassador of the African nation in Beijing has said.
"We hope China joins the efforts of the international community in supporting the Somali government," Mohammed Awil said on Monday, responding to media reports that China could dispatch a fleet to the Gulf of Aden, where most of the piracy attacks have been concentrated.
Since July, the United Nations has adopted three resolutions urging the international community to respond to the piracy menace off the Somalia coast.
On Monday, a French naval detachment is reported to have begun escort duties in the troubled Indian Ocean waters off the Somali coast as part of an EU anti-piracy naval operation.
But Awil said the presence of foreign naval missions is not a long-term solution, and sought international help for Somalia to build its own naval capability.
"The international community should help our government build up the Somali navy, and then our own navy will take the responsibility of safeguarding Somali waters," Awil told China Daily.
He said his country has a naval presence in the northeast of the country, but it is hamstrung by old ships which are no match for the hit-and-run tactics of the pirates.
"So the solution is capacity building (for the Somali navy)," he said, urging help in logistics, equipment and training.
Apart from problems at sea, the Somali ambassador, who has been in Beijing since 2005, urged the global community to offer "serious help" to counter Somalia's domestic chaos.
A civil war which broke out in 1991 has left large swathes of the country under the control of anti-government forces. But the domestic situation may get even worse, as roughly 3,000 Ethiopian peacekeepers are due to withdraw by the end of the year, leaving a security vacuum.
Awil said it was the responsibility of the international community to send peacekeepers to fill the vacuum.
"The government has again and again requested the international community to send peacekeeping troops," Awil said, adding he didn't know why "they are not taking on the responsibility".
He said the world may regret it one day as extremism has already taken root in Somalia.
"Now it is piracy; we don't know what will come next," Awil said.
(China Daily 12/17/2008 page1)