POZNAN -- Former US Vice President Al Gore on Friday lauded the great efforts made by China to fight climate change in recent years, while pointing out that its efforts had been largely ignored at the Poznan climate talks.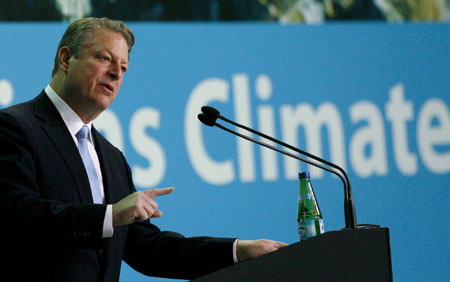 Former US Vice President Al Gore gestures as he gives a speech during the UN climate change conference in Poznan December 12, 2008. [Agencies]
"China, once seen as a looming obstacle to world efforts to reduce CO2 emissions, has itself a green stimulus of 600 billion dollars over the next two years," said Gore, an environmentalist who shared the 2007 Nobel Peace Prize for his efforts to draw attention to global warming, at a high-level meeting of ministers here.
Gore, a guest speaker, was interrupted by all-around applause each time he spoke the word "China."
Related readings:


 Comply with framework to fight climate change - minister


 Ban: China an example in fighting climate change


 Fighting climate change


 Premier Wen attends conference on climate change

"Chinese leaders are mobilizing a national effort to introduce CO2 reduction initiatives, and have already begun the largest tree-planting program the world has ever seen," he said.
Gore expressed regret that China's efforts in coping with climate change had been largely ignored.
China has joined the global effort to find a solution to the crisis, he emphasized.
About 150 ministers from across the world are participating in the last-minute, high-level meeting of the UN climate talks in Poznan, trying to detail the key elements of a long-term goal to fight climate change and to reach consensus on launching a fund to help poor countries adapt to its adverse effects.
Gore also pointed out that the old targets for fighting global warming had become obsolete according to new scientific standards, and that 350 parts per million of CO2 should be the new standard the world must adhere to.
"Even a goal of 450 parts per million, which seems so difficult today, is inadequate," said Gore, adding that the world needs to toughen goals in addressing climate change.
On Thursday, US Senator John Kerry, widely viewed as the representative of President-elect Barack Obama, also praised China's achievements in addressing climate change on its own.
China is taking a variety of climate-friendly actions, including establishing auto emissions standards tougher than those in the United States and setting ambitious goals to improve energy efficiency, Kerry said.
In contrast to some developing countries' bold actions, several developed nations like Japan, Canada and Australia are backsliding from strengthening their commitment to fighting climate change. They are blocking the introduction of a mid-term goal of cutting 25 to 40 percent emissions over 1990 levels by 2020 in the industrialized countries.