Inflation in China eased for a seventh straight month in November to the lowest level in 22 months, official statistics showed on Thursday, providing more room for the central bank to cut interest rates, as the country is racing to prevent a severe downturn.
Related readings:


Stable, relatively fast growth targeted


China exports see first fall in 7 years


PPI falls to 2-year low in China


Jobless rate should be below 5% for stability


Policymakers focus on consumption


Tax cuts for businesses in pipeline


China eyes more property prop up


Recession winds chill exporters


Help-poor policies on the anvil
The Consumer Price Index (CPI), the most widely watched indicator of inflation, rose 2.4 percent year-on-year last month after rising 4 percent in October, the National Bureau of Statistics (NBS) said on its website.
The fall in consumer inflation can mostly be attributed to declining food prices, which account for about one third of China's CPI basket. In November, food prices rose 5.9 percent over the same period last year, down from an increase of 8.5 percent year-on-year in October. Month-on-Month, food prices fell 1 percent in November from the previous month.
Pork prices, which were blamed as a culprit for surging inflation in the first half of the year, fell 9.3 percent last month, against a drop of 1.2 percent in the previous month.
The numbers came after the NBS said on Wednesday the wholesale inflation, as measured by the Producer Price Index (PPI), fell to a 31-month low of 2 percent in November, after peaking at 10.1 percent in August and rising 6.6 percent in October. The PPI was believed to be a leading indicator for the CPI, as a fall in factory gate prices typically will lead to drops in the consumer prices several months later.
The latest CPI figure was the lowest since January 2007, and marked a major fall from the rate of 8.7 percent in February when the government listed inflation as its top priority, thanks to plunges in global commodity prices and a series of official cooling measures.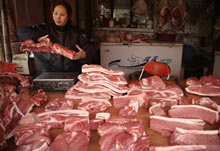 A vendor holds a piece of pork at a market in Beijing December 11, 2008. China's consumer price inflation fell to a 22-month low of 2.4 percent in November, giving the central bank free rein to cut interest rates further. [Agencies]
China's inflation is expected to fall even further in December and beyond, as prices for crude oil and other commodities in the global market may continue the downward trend due to plunging demand in the face of a global downturn.
However, economists and officials fret that inflation may be falling too fast. They start to worry about the opposite, the possibility of deflation, or a sustained decrease in the general price level.
Generally, deflation has close association with a reduction in the supply of money and personal spending. In October, the country's M2 growth, a broad measure of money supply, fell to a three-year low of 15 percent after steady declines in the previous months. In an economic downturn, consumers tend to cut back on their spending, as they have a gloomy outlook toward the future.
What adds to the deflationary pressure is the possibility of the domestic market being flushed with goods that were originally intended for the international market, as foreign demand plunged due to a recession in the major world economies. A rising supply of products will exert further downward pressure on prices.

China's exports fell 2.2 percent in November over a year earlier, the first fall year-on-year in seven years and the largest drop in nearly a decade, in the latest sign that the impact of a global recession on the world's fourth largest economy might be far worse than many economists had previously predicted.
Declining prices, if they persist, generally create a vicious spiral of negatives, such as falling profits, closing factories, shrinking employment and incomes, and increasing defaults on loans by companies and individuals, all of which will aggravate the economic downturn.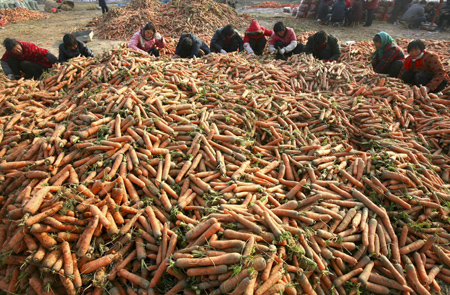 Local vendors pile up carrots while waiting for customers at a vegetable wholesale market in Zheng'an County, Henan province December 11, 2008. China's consumer price inflation fell to a 22-month low of 2.4 percent in November, giving the central bank free rein to cut interest rates further to offset an abrupt slump in the world's fourth-largest economy. [Agencies]
To rev up the economy, the central bank has cut the interest rates four times since September, slashing the benchmark one-year lending rate by 189 basis points. Analysts expect more rate cuts to come, with some saying the next cut may happen before the year end, as the downside risk to the country's economy is increasing.
China may cut benchmark interest rates by up to 162 additionl basis points in the course of 2009, Morgan Stanley Asia said in its China Economics Outlook for 2009 on Wednesday.
However, the central bank is unlikely to reduce the benchmark rates by too much, as it remains vigilant against inflation risks. Monetary tools should be used to prevent deflation in the short term, but avert inflation in the long term, the central bank said in its third quarter monetary report.
Its worries are justified, as central banks across the globe are pumping huge amounts of liquidity into the banking system to prop up their economies, but that failed to turn into a greater supply of money into the market, as banks are reluctant to lend for fear of rising defaults. However, once banks are ready to lend, that may ignite inflation.
In addition, global commodity prices will jump again when the world economy recovers, which will in turn feed into inflation.