CHENGDU -- Guo Shunqing lit three incense sticks and offered up 10 dishes before he knelt down to mourn his dead wife.
Qiao Liping quietly looked on, her face blank as the dishes she prepared were placed in front of an enlarged photo of the woman who was killed in the devastating earthquake of May 12. Qiao's husband died in the same disaster.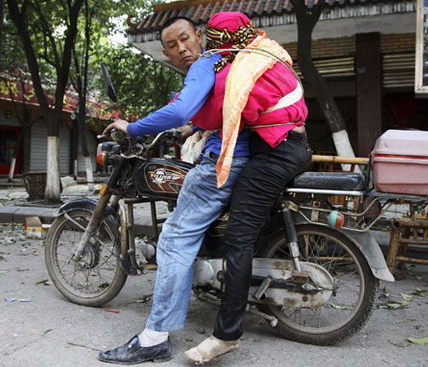 This file photo shows Guo Shunqing, a May 12 earthquake survivor, drives a motorcycle with his then dead wife on its backseat to get back home in Sichuan. [QQ.com] 
Time has yet to heal the trauma, but the two widowed have been brought together by their common experience and dreams for the future: both are in their 50s, have grown-up children and need a shoulder to lean on for the rest of their lives.
Though a formal wedding is still not planned, Guo formally accepted Qiao into his family on October 12, exactly five months after the 8.0-magnitude earthquake jolted their homes in Beichuan County of the southwestern Sichuan Province.
For nearly 60 days, Qiao has been cooking and cleaning the house for the Guo family. For as many days, Guo continues to mourn his dead wife before he sits down for supper.
"His grown-up son clearly told me he was not to call me 'Mom'", said Qiao. "My son also insists he has only one dad."
In Beichuan, the worst hit county by the quake, more than 2,000 families were shattered. Deputy civil affairs chief Yang Yongfu predicted about 70 percent of them would get hitched again a year after the quake though, with their undying love for the deceased and potential disputes over property and children, remarriage would be "anything but easy".
"These new families often have children and in-laws from the previous marriage to look after," said Yang. "Some families need to care for eight elderly people and four children."
POST-QUAKE GRIEF TIES THE KNOT
Qiao and Guo were strangers before the quake though their homes were only 1,000 meters apart and their sons were classmates at high school. "But Guo's name rang a bell," said Qiao.
A prime contractor in several construction projects, he was one of the richest people in town. His wife used to follow him to construction sites, cooking for the workers and keeping accounts.
When the earthquake struck, Guo stood arm in arm with more than 30 workers, ready to die together. The falling mountain rocks bypassed them, but buried his wife in rubbles more than 20 meters high.
"My wife should have been in Myanmar and avoided being killed," said Guo. The woman, like many others of her age, canceled the sightseeing tour her husband arranged for her because she would rather save the money.
When the quake happened, Qiao and her daughter fled their family-run store and rushed home. Their house was still standing but its roof was destroyed.
Qiao's husband, a carpenter, however, died in a landslide away from home. "He canceled many trips this year saying he'd have bad luck traveling. No one knew why he made this particular trip on that particular day," said Qiao.
Guo's post-quake syndromes were apparently worse than Qiao. His hearing and eyesight were seriously impaired. He has a short memory and becomes furious over trivial issues. Whenever he is alone, he is heard of murmuring "Let me die for her, she deserves to live".
His family's four-storey house, built for 280,000 yuan (40,000 U.S. dollars), remained intact after the quake, which became the cause for widespread rumors that "Qiao married Guo because she coveted his money". Some even said Guo paid Qiao 120,000 yuan.
"I was about to end this relationship when I first heard the rumor," said Qiao.
"Had I had that much money, I wouldn't have wanted to remarry," Guo said. The quake destroyed his projects and broke his fortune, too. All he has is the house and 20,000 yuan in cash with which he left home before the quake.
Guo and Qiao agreed they would reach a written agreement before they get married. "My son will inherit all my property and his son will take all his," said Qiao. "We'll both do our best to treat all our sons and daughters fairly."
They have a son and a daughter each. The daughters are married and the sons remain single. Like most Chinese families, the old couple consider sons as heirs and consult only their sons for major domestic affairs.
Guo's son Guo Qichao carefully keeps Qiao at arm's length because he feels he has nothing to say. Memories of his mother still cling to the 20-something man. "She was active and easygoing. She enjoyed chatting with my friends, too."
The young man once discussed his father's remarriage plan with Qiao's son Wang Juchuan, and eventually agreed they would respect their parents' choices. "It's a miracle to survive the earthquake, " said Wang, who followed his father to be a carpenter. "I hope they will live in peace for the rest of their lives."
Wang occasionally visits his mother at Guo's, but never stays even for a meal.
"It's still a question mark whether we'll be happily wed," said Guo Shunqing. "probably until we die."
MOURNING CONTINUES, BUT LIFE GOES ON
Shortly after the quake, a news photo featuring a man's final ride home with his dead wife moved millions in China.
Wu Jiafang, 44, carefully dressed his wife Shi Huaqiong, dead in the rubble of a teahouse in Mianzhu City, in her favorite outfit, tied her limp body to himself with a rope and carried her home on his motorbike.
Wu's low-key remarriage three weeks ago has put him in the spotlight again.
His new bride Liu Rurong, a native of Sichuan's provincial capital Chengdu, was deeply impressed by Wu's affection and loyalty to his dead wife when she watched the couple's sad but loving story on TV in October.
Liu, who divorced more than 10 years ago, managed to find Wu's telephone number and called him on October 16, from the southern boom city Shenzhen where she works. "He is an affectionate and responsible man," said Liu. "I've never met anyone as worthy."
When Liu, 45, asked about the post-quake rebuilding and how Wu and his teenage son were doing, Wu felt the woman resembled his dead wife in many ways. "She's as caring and we have a lot to talk about," Wu said.
Over the past months, at least 16 women expressed their admiration for Wu. He turned them all down because he was still mourning and was not used to their aggressive ways of expressing love.
With Liu, however, it was totally different, Wu said.
After three weeks of candid phone conversation, the two met for the first time in Chengdu on November 9. "We recognized each other at first sight at the crowded Shuangliu Airport," said Wu.
Liu said her heart ached when she held Wu's calloused hands. He ushered her to his ramshackle home, which nearly toppled in the quake, and a crowd of relatives of Wu and his dead wife, opened arms to welcome her.
"No one was hostile or embarrassed. They all laughed and chatted like one big family," said Liu. Wu's teenage son readily told her he "wouldn't mind" as long as his father was happy.
The new couple were married on November 18, without a wedding or any other ceremony. A week later, Liu went back to her work in Shenzhen and Wu continued toiling at a construction site near his home.
All their neighbors are busy rebuilding homes, but the couple need to wait for a year or two before they make enough money. By helping others build homes, Wu is making about 100 yuan a day. Meanwhile, Liu's boss in Shenzhen has lent the couple 40,000 yuan, which will be deducted from her wage.
Wu still needs to cheer up from his grief over his dead wife, who was buried in the grain field just 20 meters from home. "I hope she still feels close to me," he said. "But with Liu calling me three times a day, I feel this winter is not so bitter."