Sino Gold Mining Ltd, one of the largest foreign investors in China's mining industry, is also the first international investor to mine gold in China, focusing entirely on gold exploration and mining.
The Sydney-based company operates China's second largest gold mine - Jinfeng gold mine in Guizhou province in Southwest China.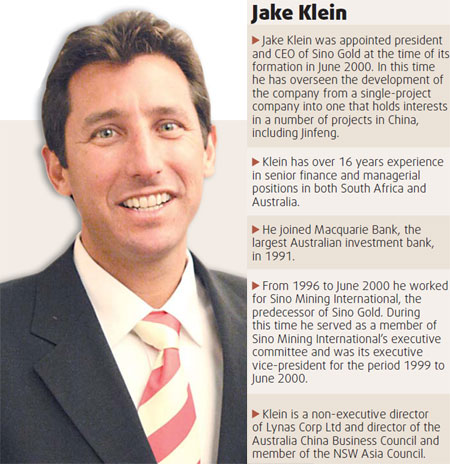 Sino Gold started its Jinfeng operations in 2002 and has since developed it as its flagship gold mine.
The Jinfeng mine is estimated to have gold reserves of 120 tons with output this year expected to be around 6 tons.
The Sydney and Hong Kong-listed gold producer recently completed construction of the $62.5 million White Mountain mine in Northeast China and started pre-feasibility studies at the high-grade Eastern Dragon project in northern China.
Jake Klein, chief executive officer of Sino Gold, spoke to China Daily reporter Zheng Lifei recently about the Australian company's business development plans in China.
Q: Jinfeng gold mine has been criticized in the Chinese media as being sold for too cheap a price to your company. What are your views on this?
A: We got the right to develop Jinfeng mine through an open bidding process. The mine was identified by the government as a project open to foreign investors. But many of them decided not to proceed. I feel there were three reasons for this.
At that time global gold prices were low and were ruling at less than $300 an ounce.
There were also many technological issues associated with the mine. These were also recognized by the (predecessor of) NDRC (National Development and Reform Commission). Technologically, Jinfeng is a difficult mine to develop and process. We were able to extract 85 percent of the gold from the mines while others could only extract 30 percent.
The remoteness of the site also put off most of the investors.
We undertook significant risk exploration activities in the early stages and are now confident that the mine could be operated for 20 years or a significantly longer period.
We would prefer to operate some large, long-life, sustainable mines, rather than have 100 mines in China.
Q: Is Sino Gold planning to enter other mining sectors in China, apart from gold?
A: We have no such plan. We see China as an extremely prospective region. It is also a place where you can legally obtain good returns. For the time being, we would like to stay focused on gold.
Q: What kind of growth model are you looking at in China? Will you acquire some mines to drive your business or will you do your own exploration?
A: Our strategy is to build a small number of large-scale long-life mines like Jinfeng and White Mountain. This allows us to operate for a long time and also offers scope for community development and environment protection. We have successfully carried out these programs in Jinfeng. We hope that the villages or communities in which we operate will be better-off after we leave.
So we prefer good quality, long-life mines. We think that as a gold company, you need to do all activities. You need to explore, so we will do a lot of exploration. This year we spent over 100 million yuan on exploration. Risk exploration is also an integral part of our business.
We are also interested in opportunities which are more advanced, like renovating and enhancing the output of existing mines.
Q: What is Sino Gold's exploration budget for next year?
A: Given the economic circumstances, it would probably be less than the $15 million we spent this year. The budget will depend on gold prices and also on other advanced opportunities that may come up when prices cool a bit.
Q: Is Sino Gold planning to expand its business beyond China?
A: No. At this stage, we would stay in China with gold as our focus.
We have 1,500 people on ground and almost all of them are Chinese. We see China as a large country in terms of land mass. Relative to other similar sized countries, it has a good legal system, is larger and geologically more prospective.
Q: Are there any major obstacles in operating your business in China?
A: Not really. It is all about learning how to operate here. It took us 13 years to really integrate and to be effective in China. So now we have the team and the capital providers. We also understand the system, which is bureaucratically complicated but generally sound.
Q: Will Sino Gold cut gold output as gold prices have retreated recently?
A: We do not have any plans to cut production.